Clear skin, Solve all the skin problems with Dual Yellow Laser, Receive satisfy result from the first time.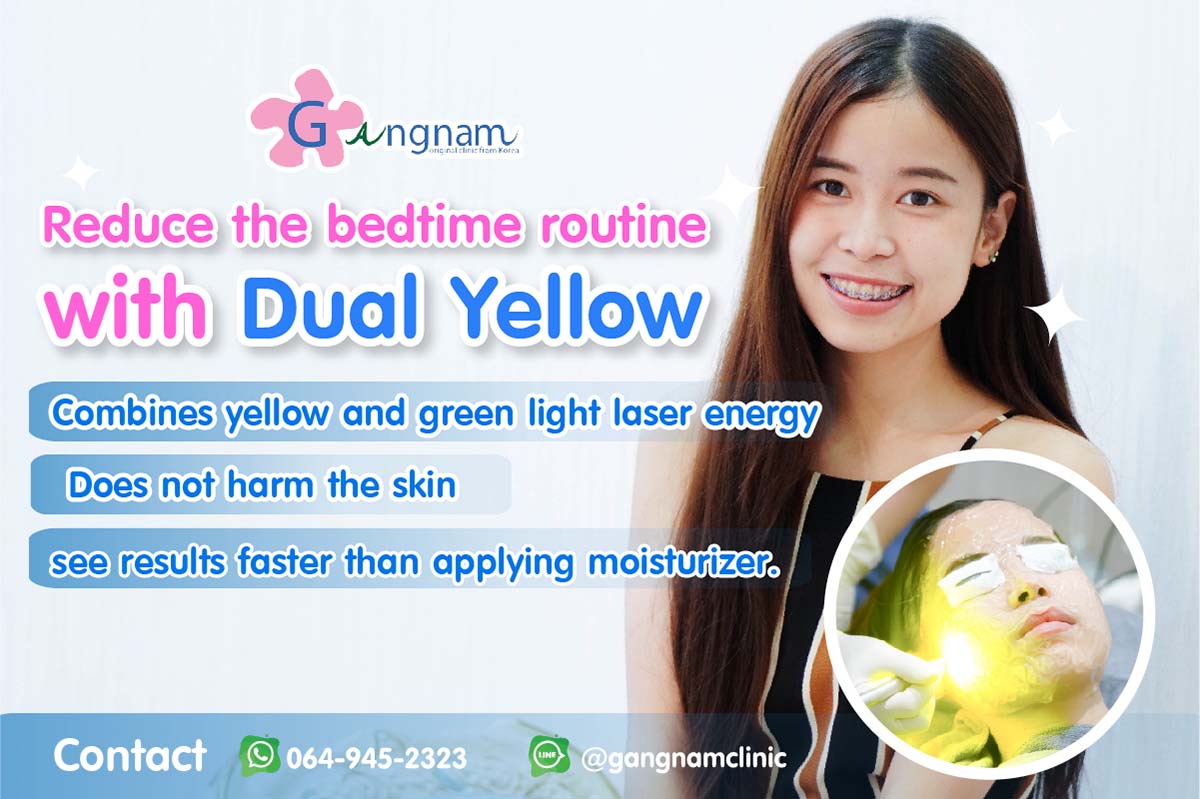 Are you facing all these problems?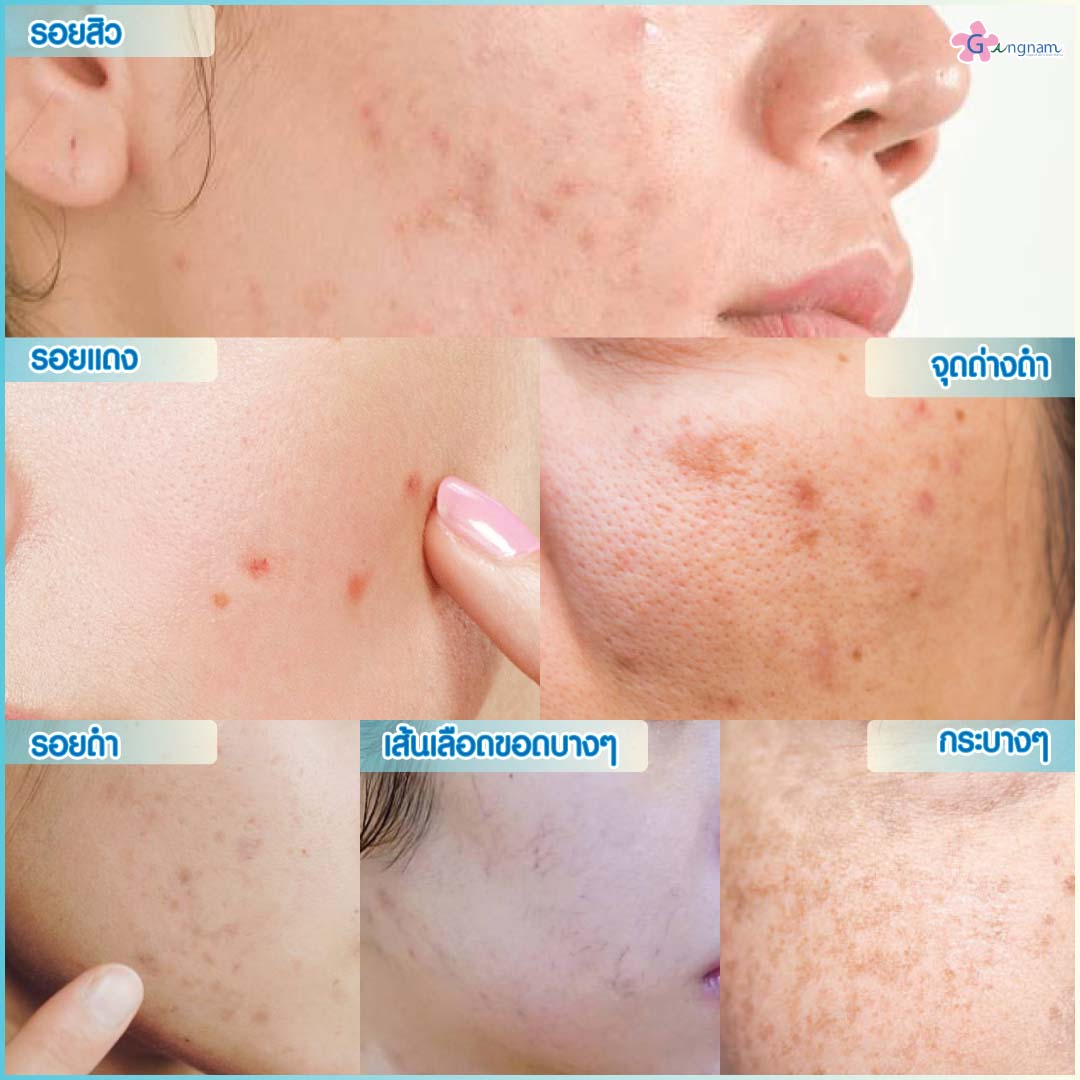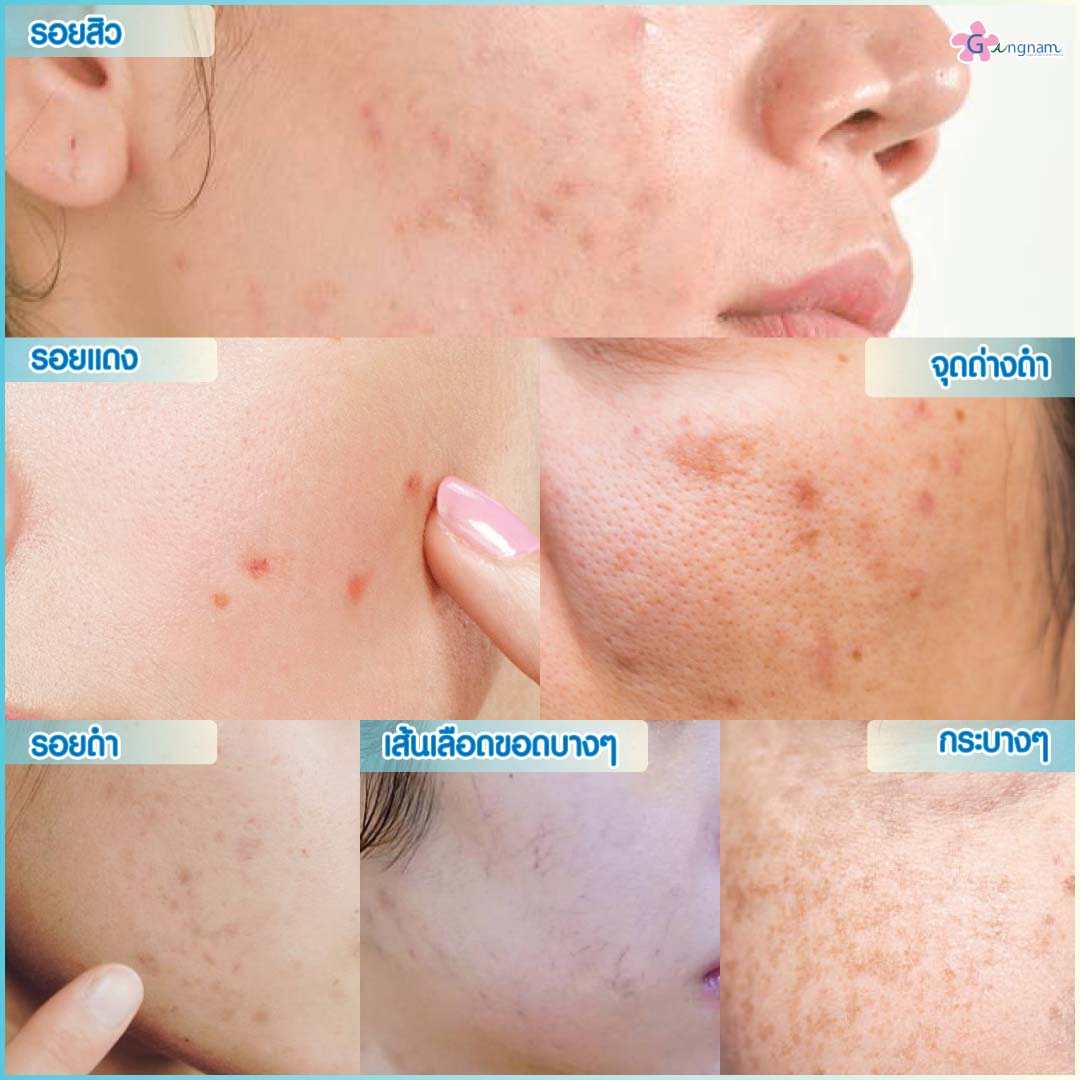 เพื่อแก้ไขปัญหากวนใจเหล่านี้ วิธีที่ช่วยผลัดเซลล์ผิวกำจัดรอยดำ รอยแดง เผยผิวใหม่เรียบเนียน นั่นคือ การเลเซอร์หน้าใส แต่เราควรจะเลือกเลเซอร์หน้าใสแบบไหนดี? เลเซอร์หน้าใสที่นิยมมากที่สุด 3 อันดับแรก คือ Dual Yellow / Q-Switch และ IPL ออนนี่จะเทียบให้ดูถึงระดับพลังงานเจาะลึกแต่ละตัวเลยว่าแบบไหนดีที่สุด?
Dual Yellow VS Q-Switch lasers
The Dual Yellow Laser has two wavelengths of light. The First one is green light, that has a wavelength of 511 nanometers and targets melanin particles, helping to improve overall skin clarity and reduce various black spots. The surrounding skin is not affected or damaged. 
The Second is yellow light, that has a wavelength of 578 nanometers and focuses on reducing redness, blood vessels, and red marks from acne, while also stimulating collagen production in the skin. The yellow light also helps prevent the recurrence of acne, which is a common cause of red marks. The Dual Yellow Laser is very gentle, effective, and does not cause skin peeling or scarring after receive the treatment 
The Q-Switch laser has two different wavelengths. The First one is the 532-nanometer wavelength is used to treat redness, melasma, and pigmentation. The sensation during the treatment can be slightly uncomfortable, and there may be some peeling of the skin afterward, which typically resolves within 2-3 days. It is necessary to undergo 2-3 continuous treatments to reduce black spots. The second one is the 1,064-nanometer wavelength, that is used for tattoo removal and scar treatment (But Picoway Laser is now available and provides better results of specific tattoo and scar removal).
What is the difference between Dual Yellow and Q-Switch lasers ?
After treatment: The reduction of black spots and red marks from Dual Yellow is more noticeable compared to Q-Switch and the number of treatment sessions required is typically fewer than with Q-Switch.

Sensation during treatment: Dual Yellow laser treatment is generally more gentle, and there is usually no need for numbing cream or post-treatment skin peeling. Recovery time is also faster. In the opposite way, Q-Switch laser treatment may cause a warm and tingling sensation during the procedure. The face may appear red afterward, and it may take longer for the skin to recover.

Collagen stimulation: Dual Yellow laser treatment stimulates collagen production in the skin, leading to stronger and more resilient skin. It also helps in killing bacteria on the skin and reducing the occurrence of future acne. But Q-Switch laser treatment is on the other hand, It does not have a direct impact on collagen stimulation.

Treatment of active acne: Dual Yellow laser treatment can be performed on active acne but has to press all blackhead acne or other acne under skin out before the treatment, while Q-Switch laser treatment is not suitable for treating active acne as it may irritate the inflammation.
Dual Yellow laser treatment is an innovative laser technology that effectively reduces redness and black spots from acne compared to Q-Switch
IPL or Intense Pulsed Light is a treatment method that uses light waves of various wavelengths to address specific skin concerns. The wavelength range for IPL is typically 515 to 1,200 nanometers. IPL machines come in different types, ranging from those used in clinics to those designed for personal use. IPL is commonly used to treat various skin issues such as reducing black spots, improving overall skin clarity, and removing hair. However, IPL may not be suitable for achieving a warm undertone skin color.
What is the difference between Dual Yellow and IPL ?
Dual Yellow laser treatment effectively targets and reduces black spots and red marks, providing clearer and better results in all skin color tone 

Dual Yellow laser treatment can help achieve a more even skin  tone

The sensation during both Dual Yellow and IPL treatments is generally warm, and there may be temporary redness afterward but will not cause skin peeling or leaves persistent red marks. Both lasers are known for their gentle nature.
When comparing the effectiveness of treating black spots and red marks caused by acne, IPL treatment needs to be performed continuously for a minimum of 6-10 sessions to achieve noticeable results. On the other hand, Dual Yellow treatment allows visible results after the first session and typically requires only 2-3 sessions for the black spots to fade away.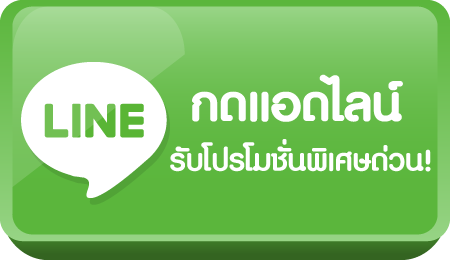 How does the Dual Yellow laser work?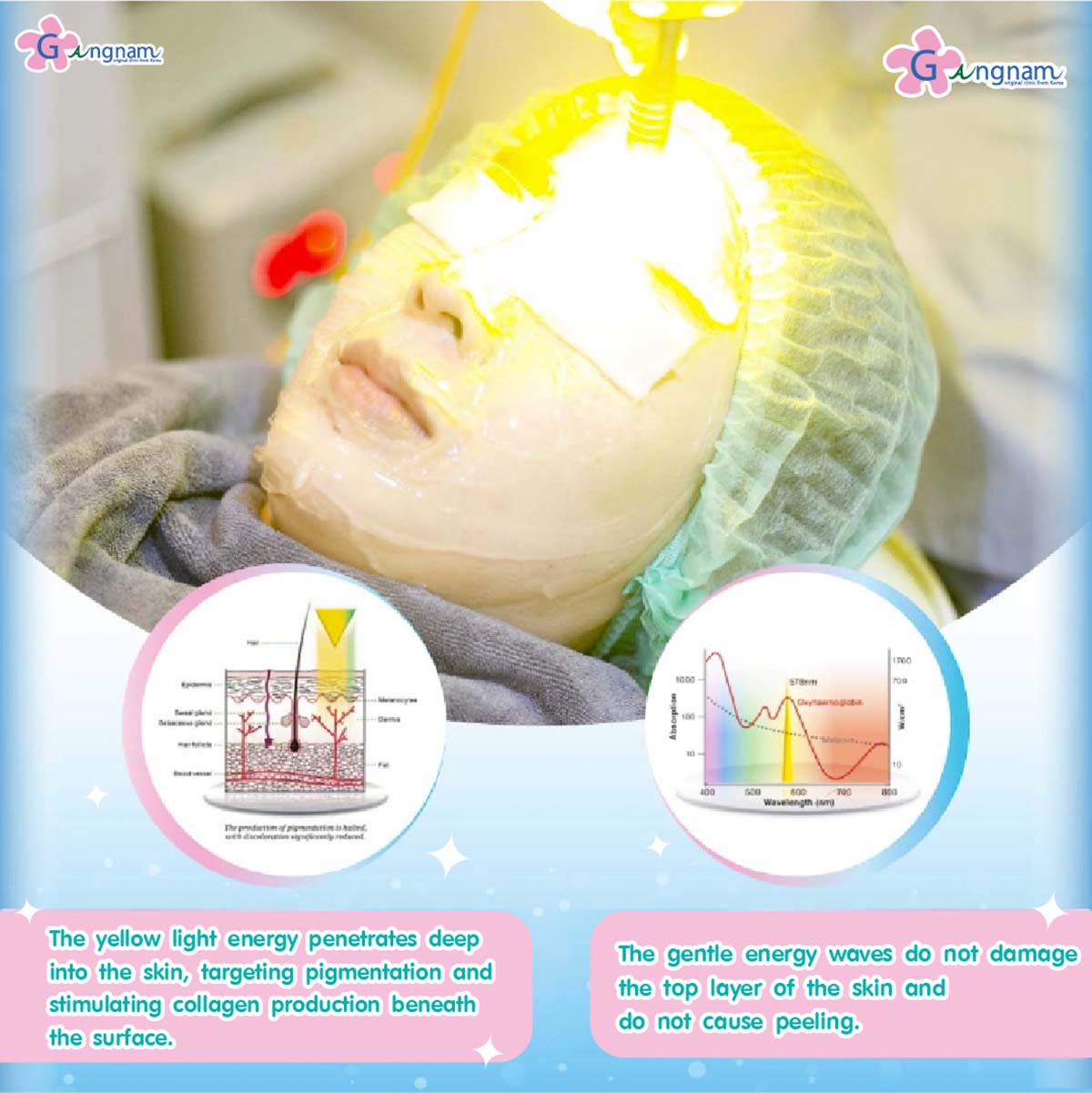 The Dual Yellow laser system consists of two laser wavelengths: yellow light (578 nm) and green light (511 nm).
1. The yellow light laser targets small blood vessels, reducing redness without damaging the upper layer of the skin. It does not cause bleeding or peeling, unlike Q-Switch lasers.
2. The green light laser (511 nm) affects the top layer of the skin without damaging the underlying skin. It promotes a clearer complexion, reduces redness, and diminishes fine blood vessels. The effects are noticeable from the first treatment. It is recommended for treating pigmentation issues, including dark spots and melasma. For best results, a series of 2-3 consecutive treatments is recommended to achieve clearer and brighter skin.
In addition to treating redness, dark spots, and small blood vessels, the Dual Yellow laser system has the advantage of using high energy to target certain types of growths, such as under-eye growths. Another special feature of the Dual Yellow laser is the integration of Fast Edge MicroPulse technology, which stimulates collagen production in the skin, making the skin more resilient. It also helps to prevent the formation of new acne and reduce the appearance of facial wrinkles.
Which skin problem is good with Dual Yellow ?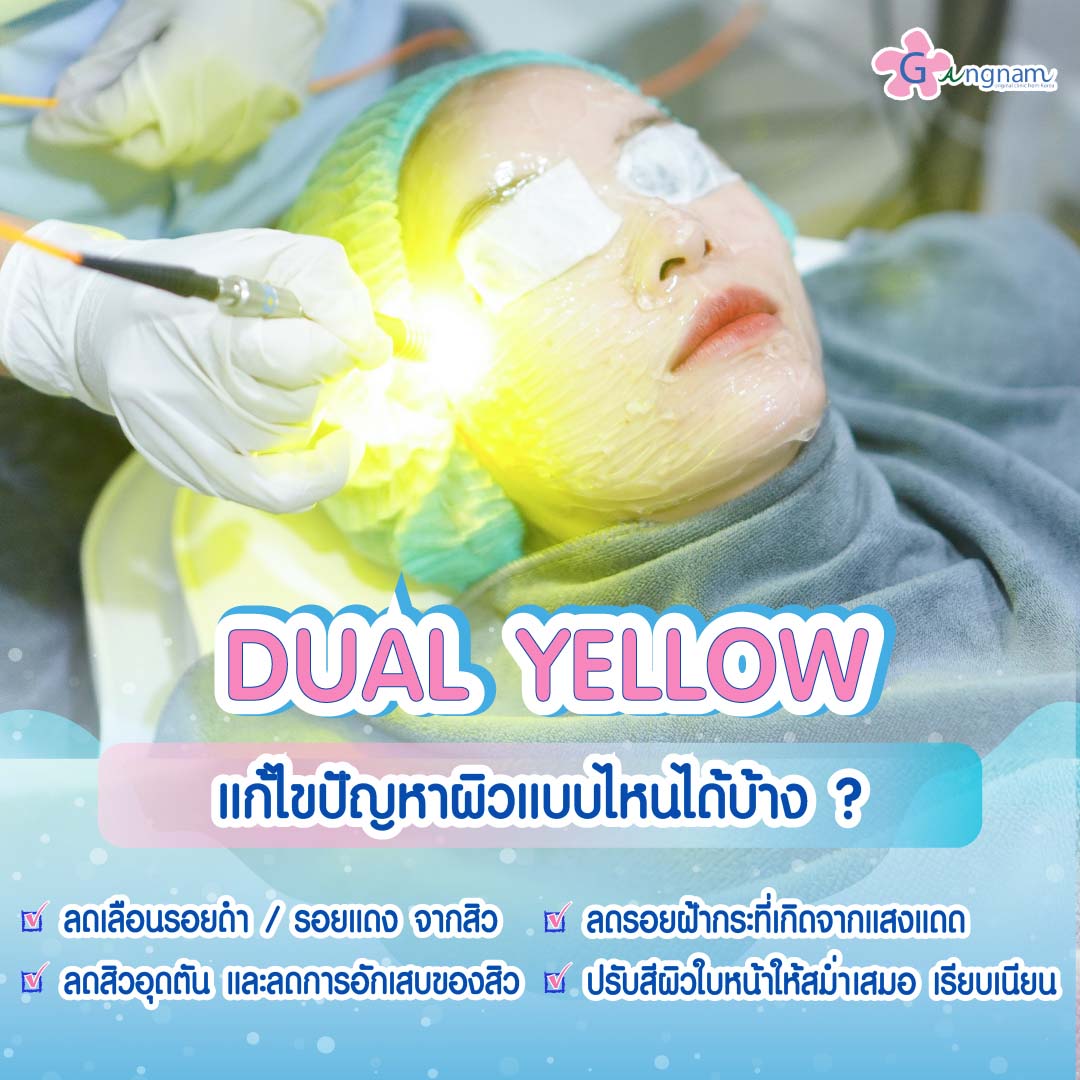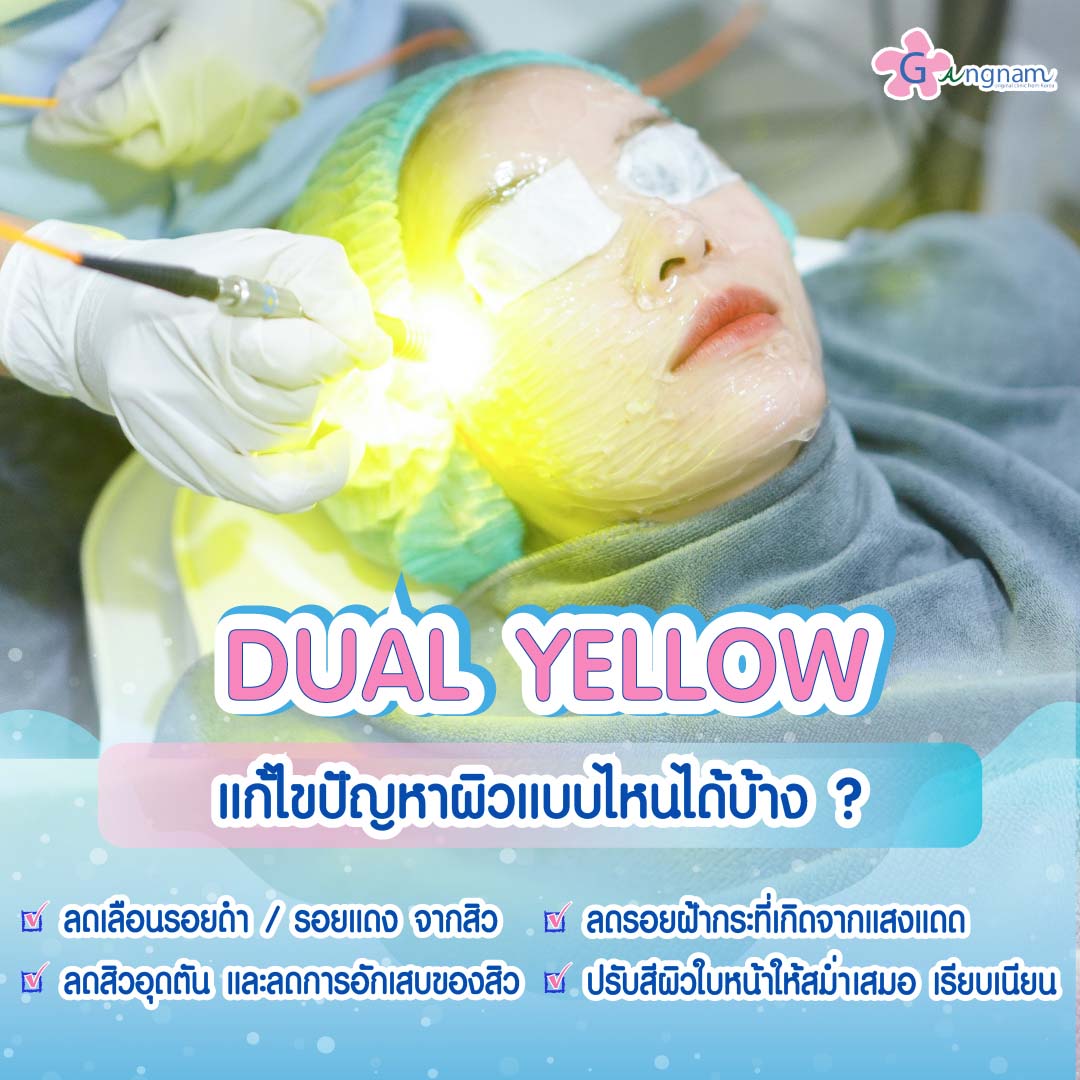 B

lack spots and red marks caused by acne.

Sun-induced freckles and age spots.

R

educe the chances of developing inflammatory acne.

Improve overall skin tone, providing a more even and smoother skin.
5 reasons why you should get Dual Yellow treatment at Gangnam Clinic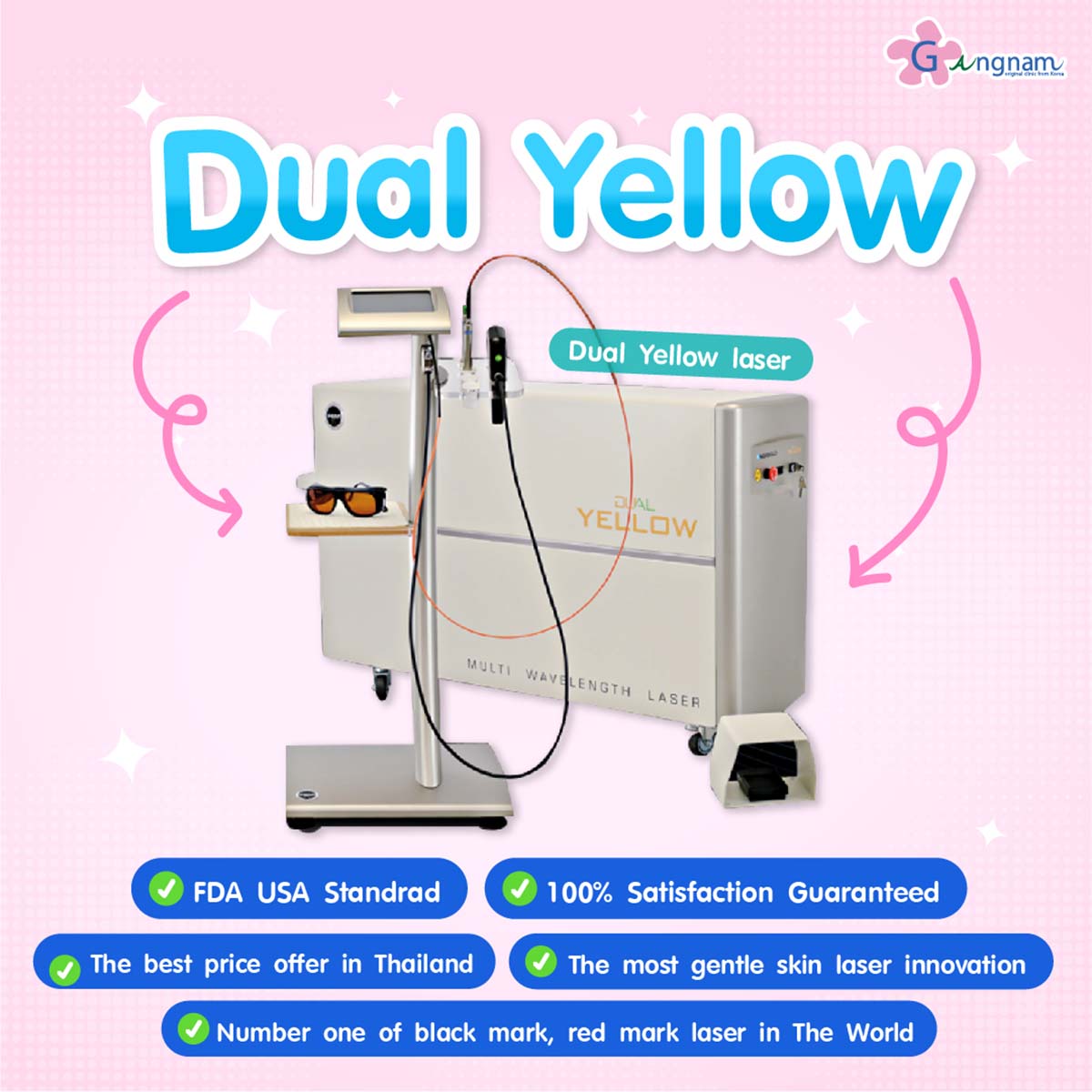 Gangnam Clinic imports genuine Dual Yellow laser machines from the United States, ensuring the highest standards and FDA compliance. You can have confidence that you will receive the best possible treatment at Gangnam Clinic.

Gangnam Clinic offers the top-of-the-line Dual Yellow laser treatment at the most reasonable prices in Thailand and guarantees the best prices in the country without compromising on quality.

Gangnam Clinic guarantees patient satisfaction. Patients often see visible results, including a reduction in redness, after just one session of Dual Yellow treatment.

Dual Yellow is the gentlest laser technology available today. It does not leave any burn marks, redness, or peeling. There is no downtime or need for recovery, and patients can resume their normal activities immediately after the treatment.

Dual Yellow is highly effective in treating redness and black spots caused by acne, as well as addressing fine blood vessels. Moreover, This technology can stimulate collagen production, making the skin stronger and less prone to wrinkles and future breakouts.
What does it feel during Dual Yellow treatment ?
First of all, Dual Yellow is the most gentle technology to the skin at the moment. So, during Dual Yellow laser treatment, You will feel a gentle and soothing sensation. The laser treatment feels like a light massage around the face. Patients may feel a slight warmth in the areas where there are pigment irregularities but after the laser is applied, temporary redness may appear on the skin, which gradually subsides on its own.
Tips for post-care after Dual Yellow treatment
Cleanse your face with cool water and avoid using cleansers for the first 24 hours after the laser treatment.

To reduce the risk of clogged pores or breakouts that could lead to new marks in the future, it is recommended to use oil-absorbing blotting papers underneath masks to prevent direct contact with the treated face.

Avoid direct sun exposure for at least 7 days after the treatment, and apply a sunscreen with an SPF of at least 30.

Moisturize your skin with a hydrating moisturizer to replenish moisture after the laser treatment.

Avoid washing your face with hot water as it can dry out the skin and contribute to clogged pores and breakouts.
รีวิวผลลัพธ์เลเซอร์ Dual Yellow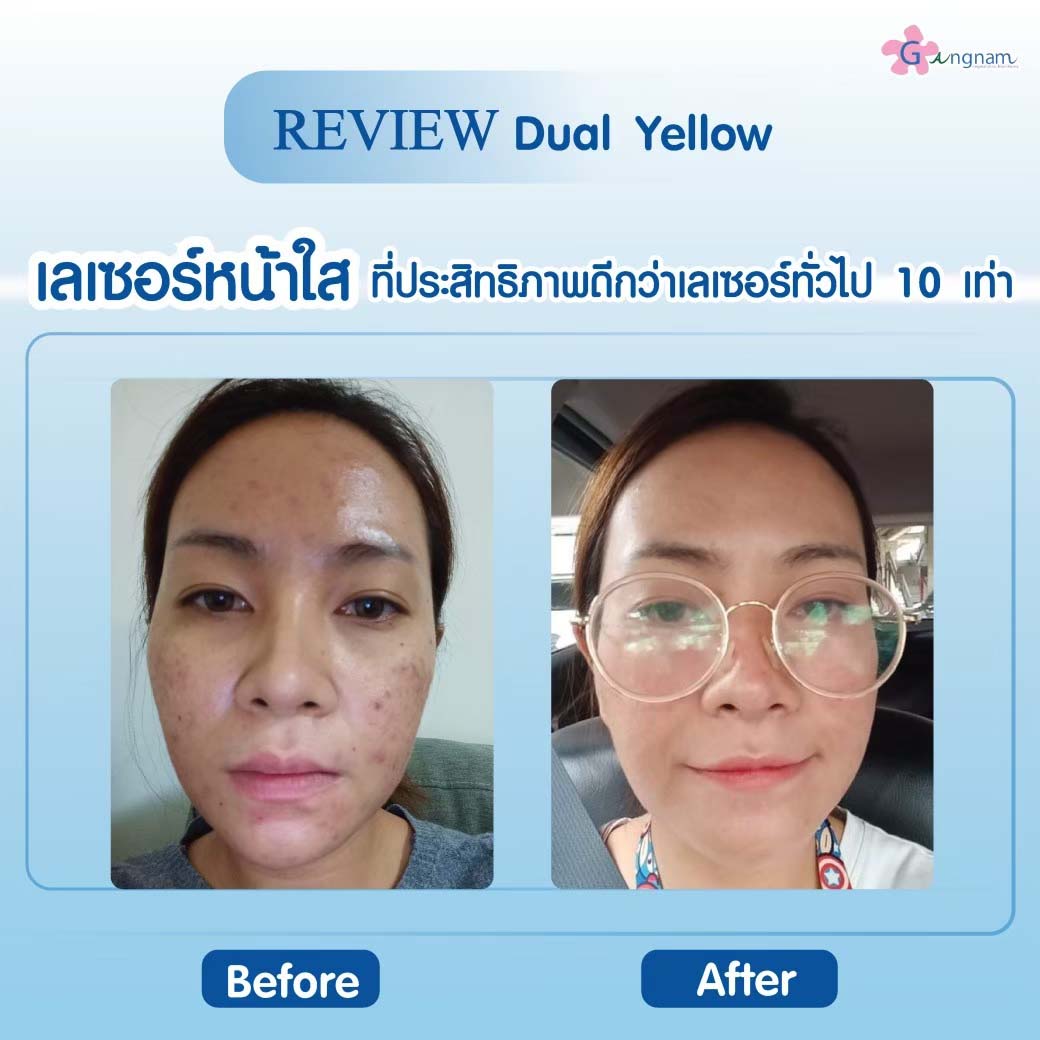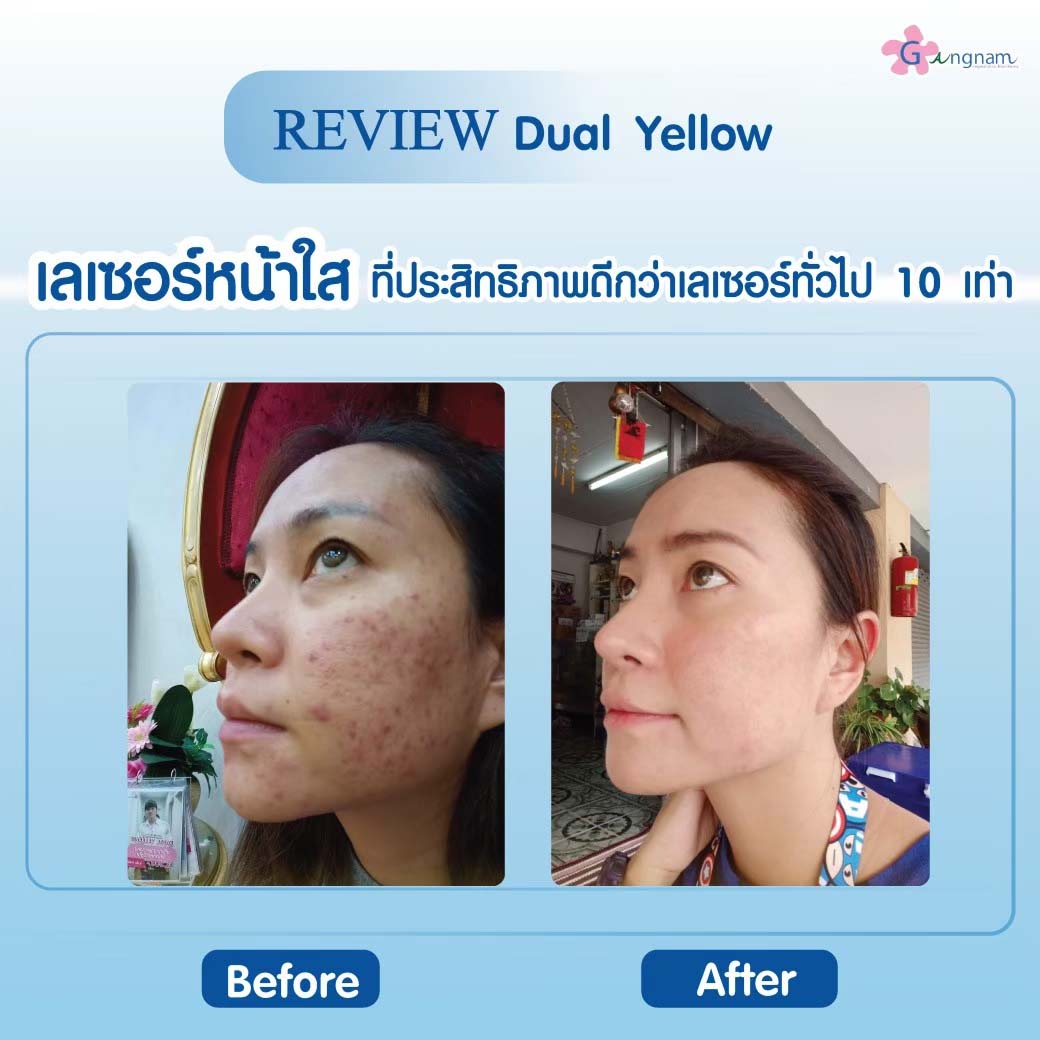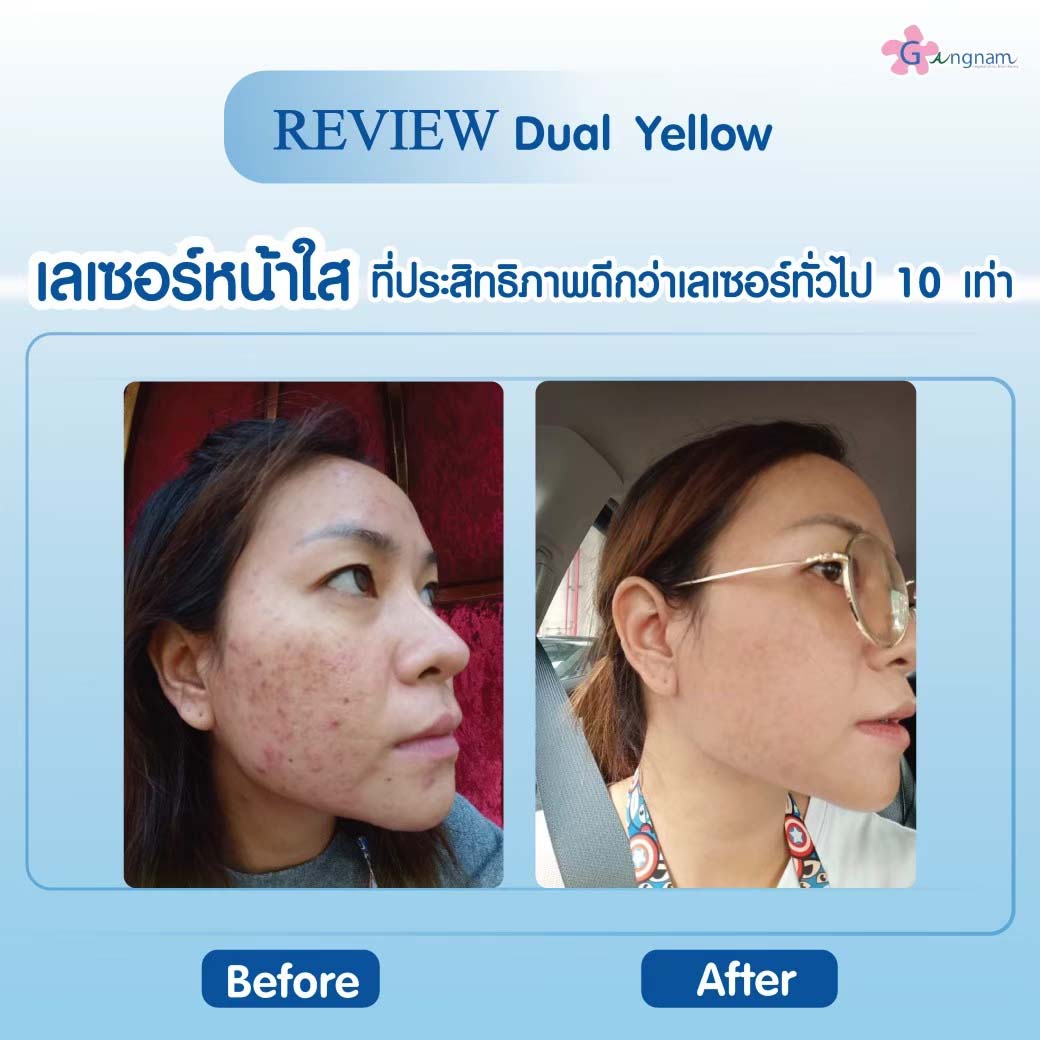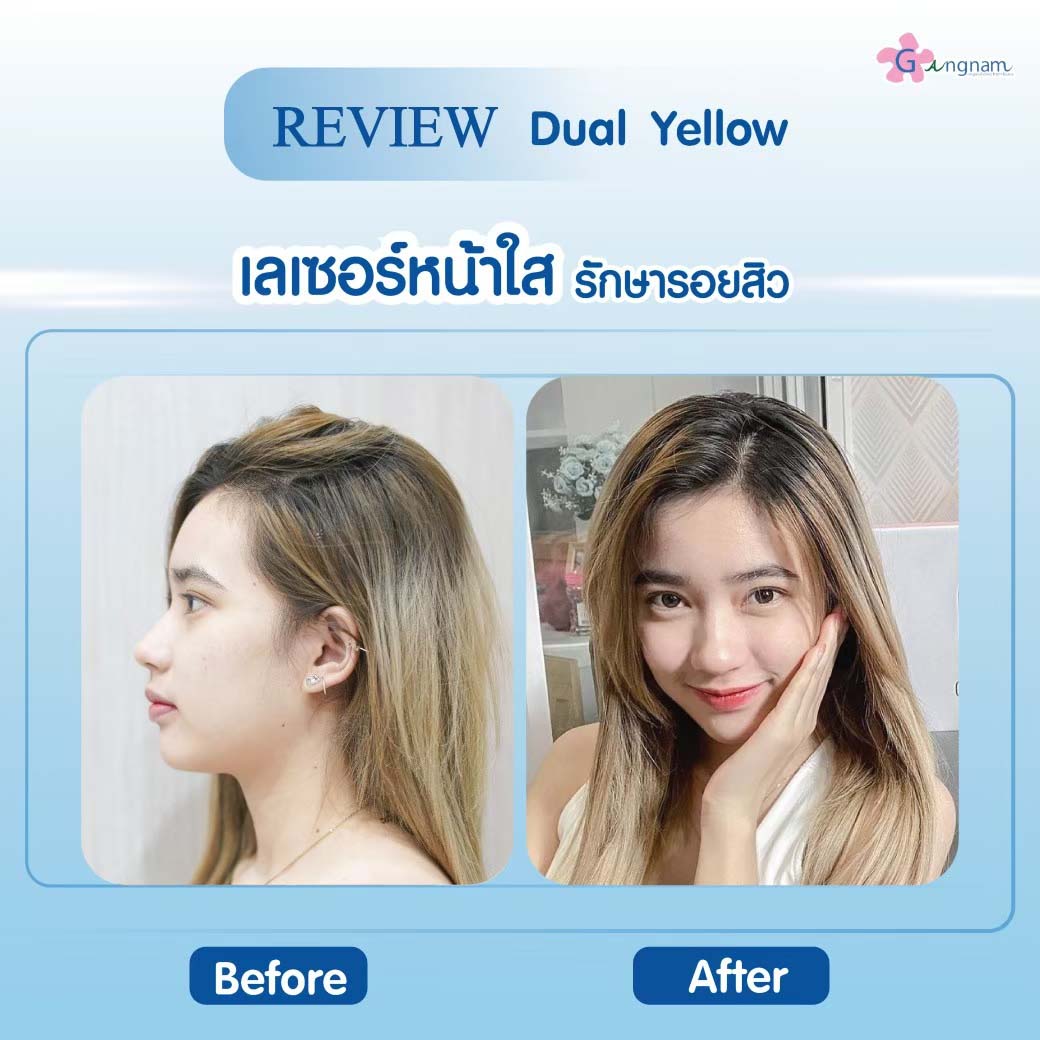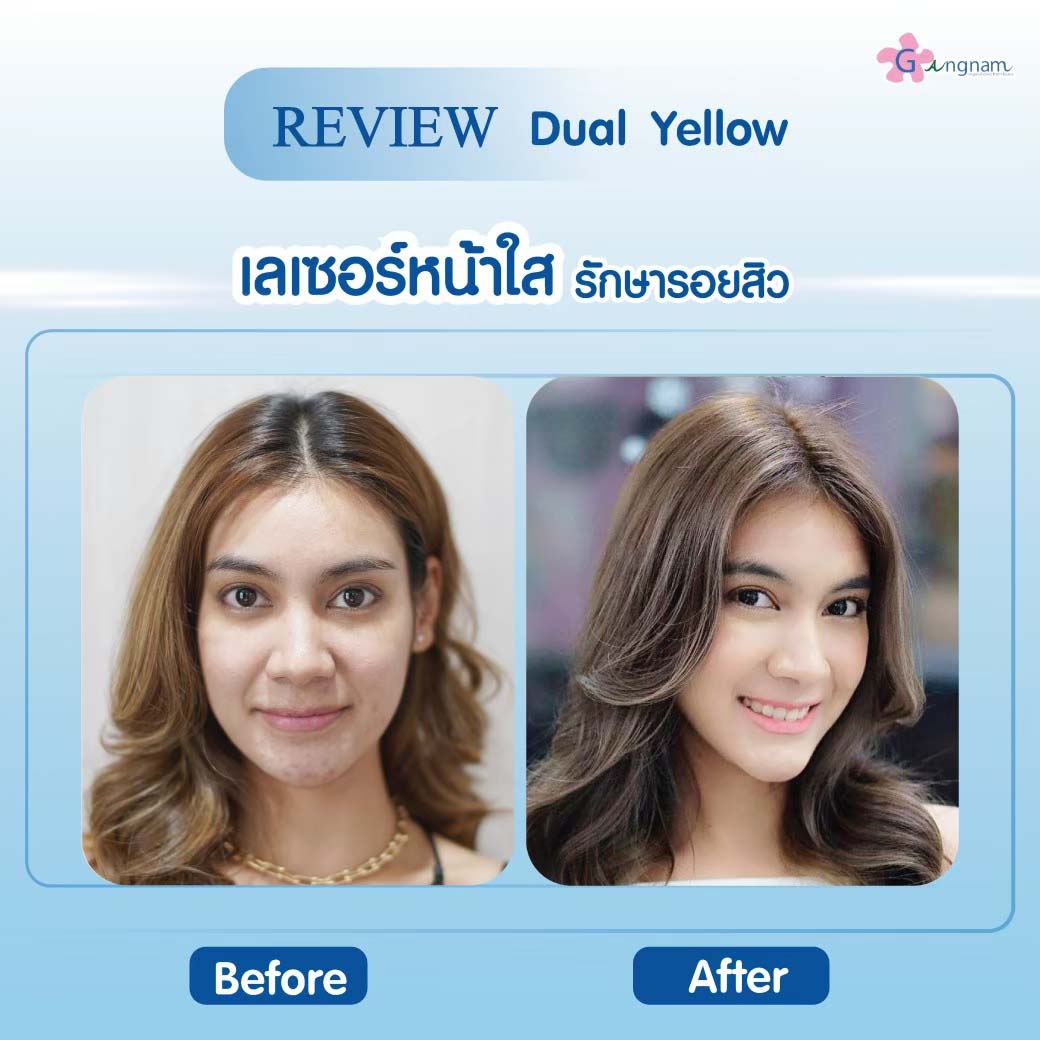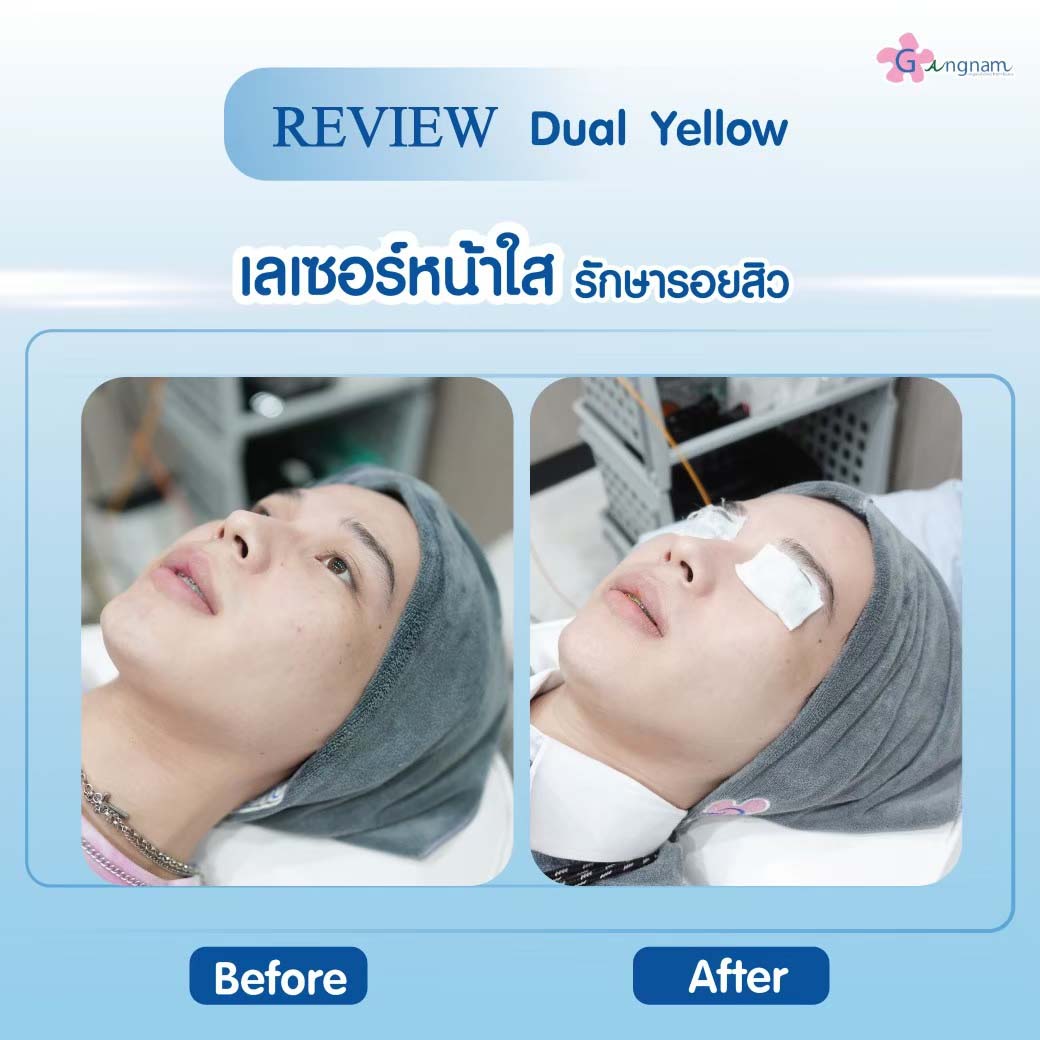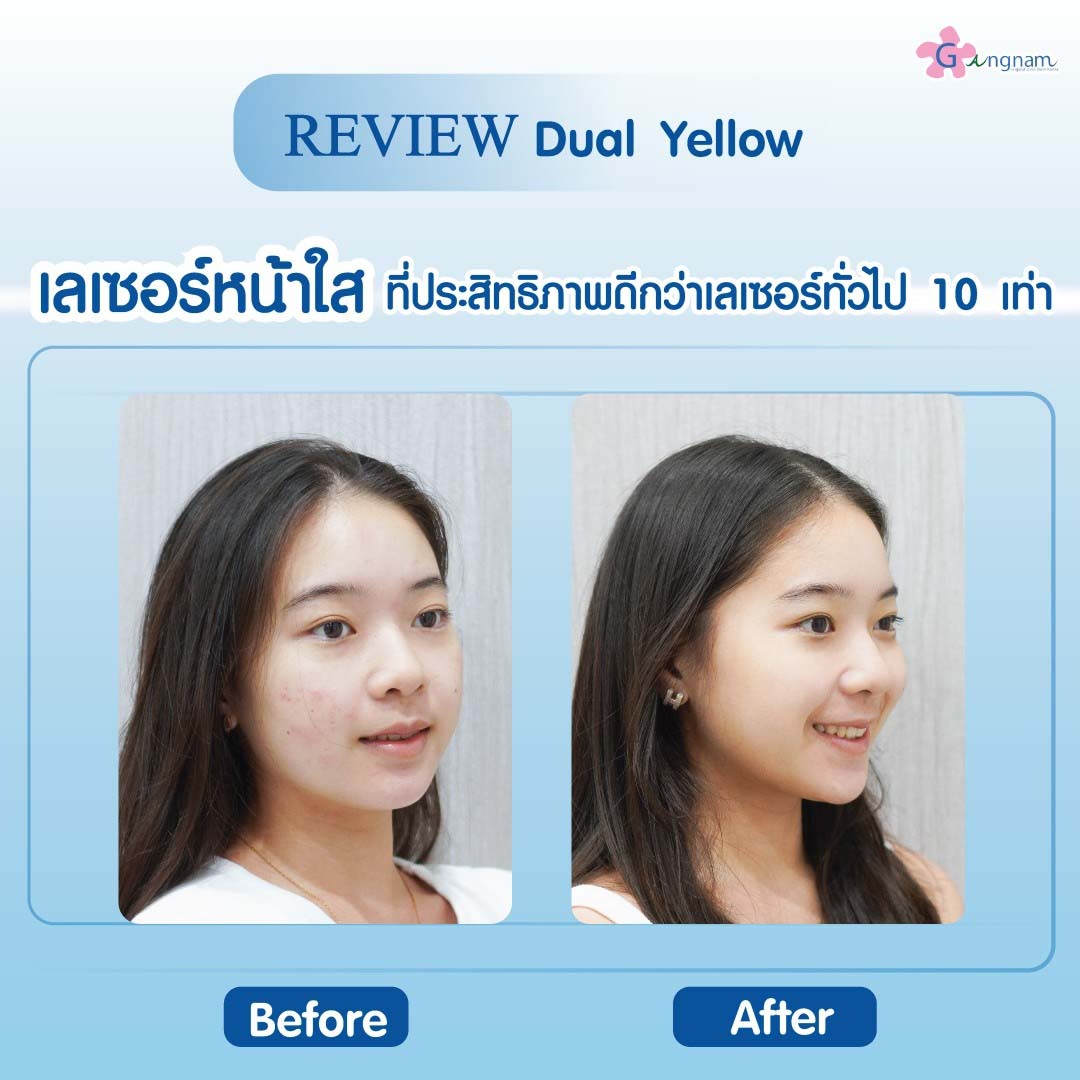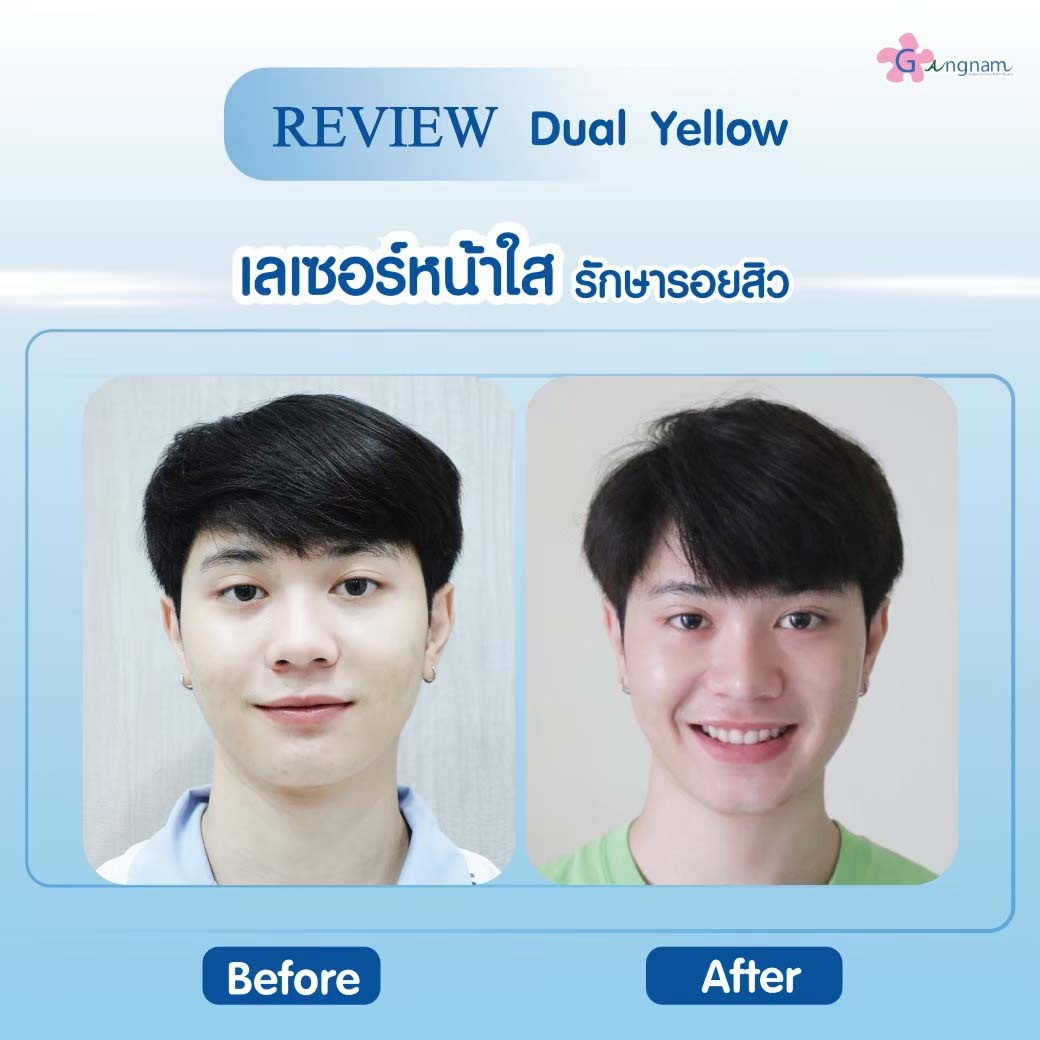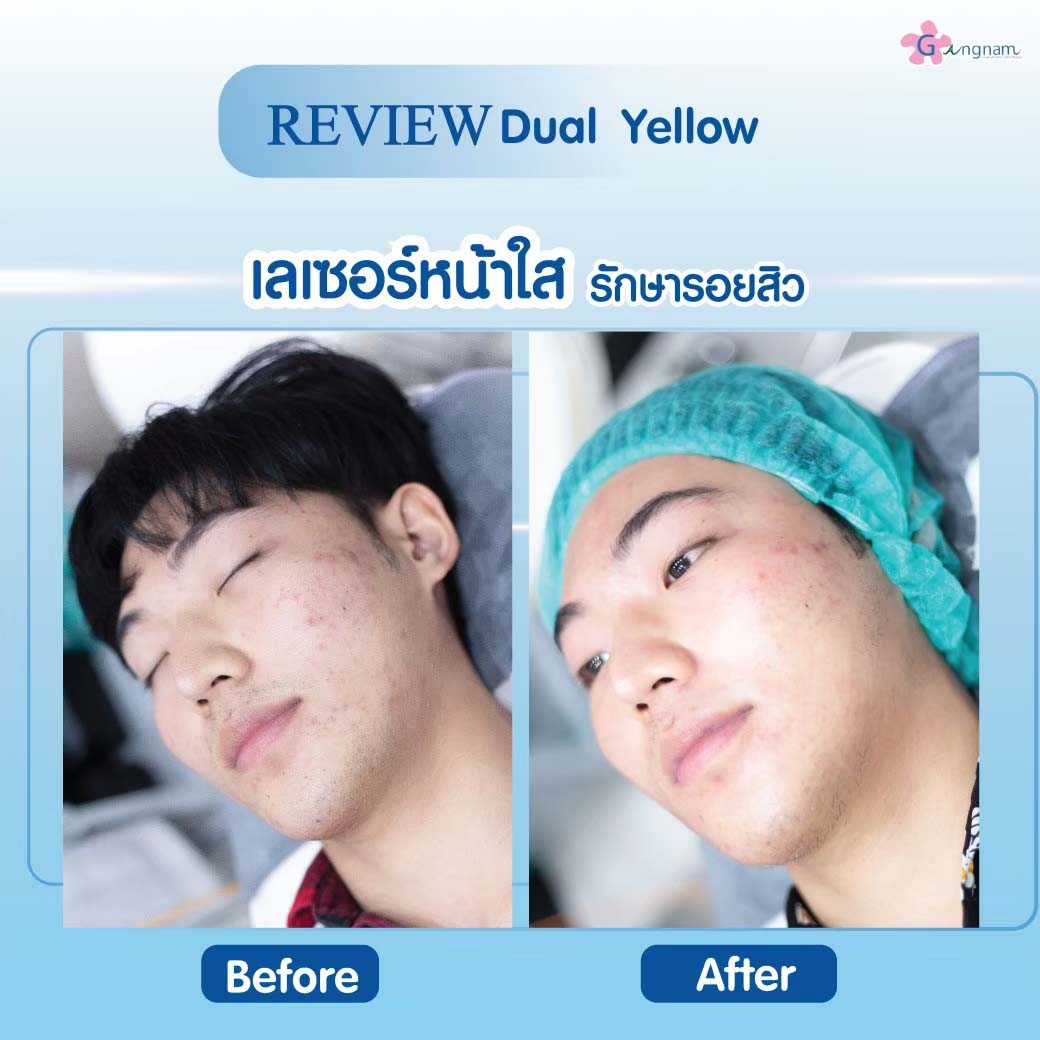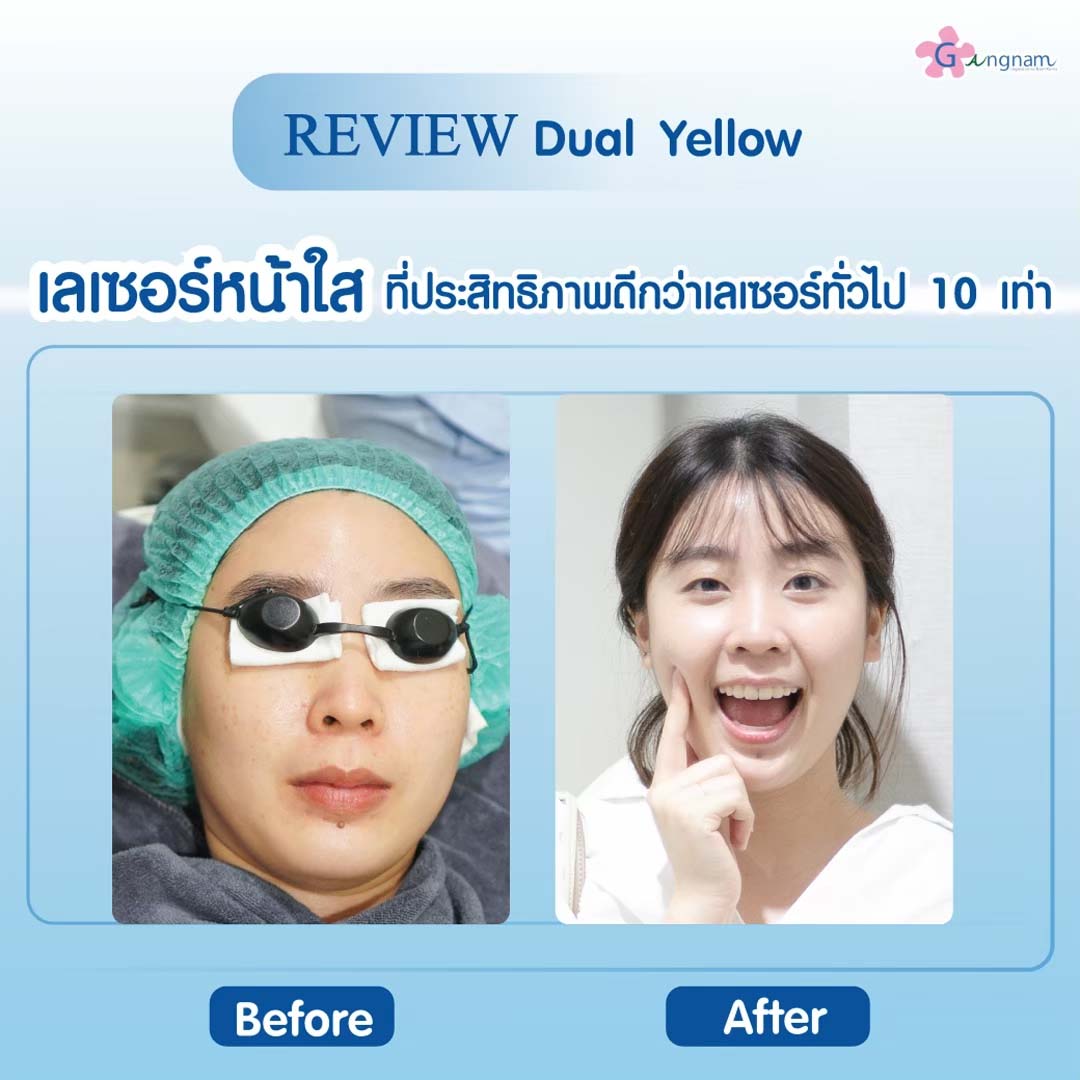 *ผลลัพธ์แตกต่างกันขึ้นอยู่กับแต่ละบุคคล
แชร์ความประทับใจของคนไข้กังนัมคลินิก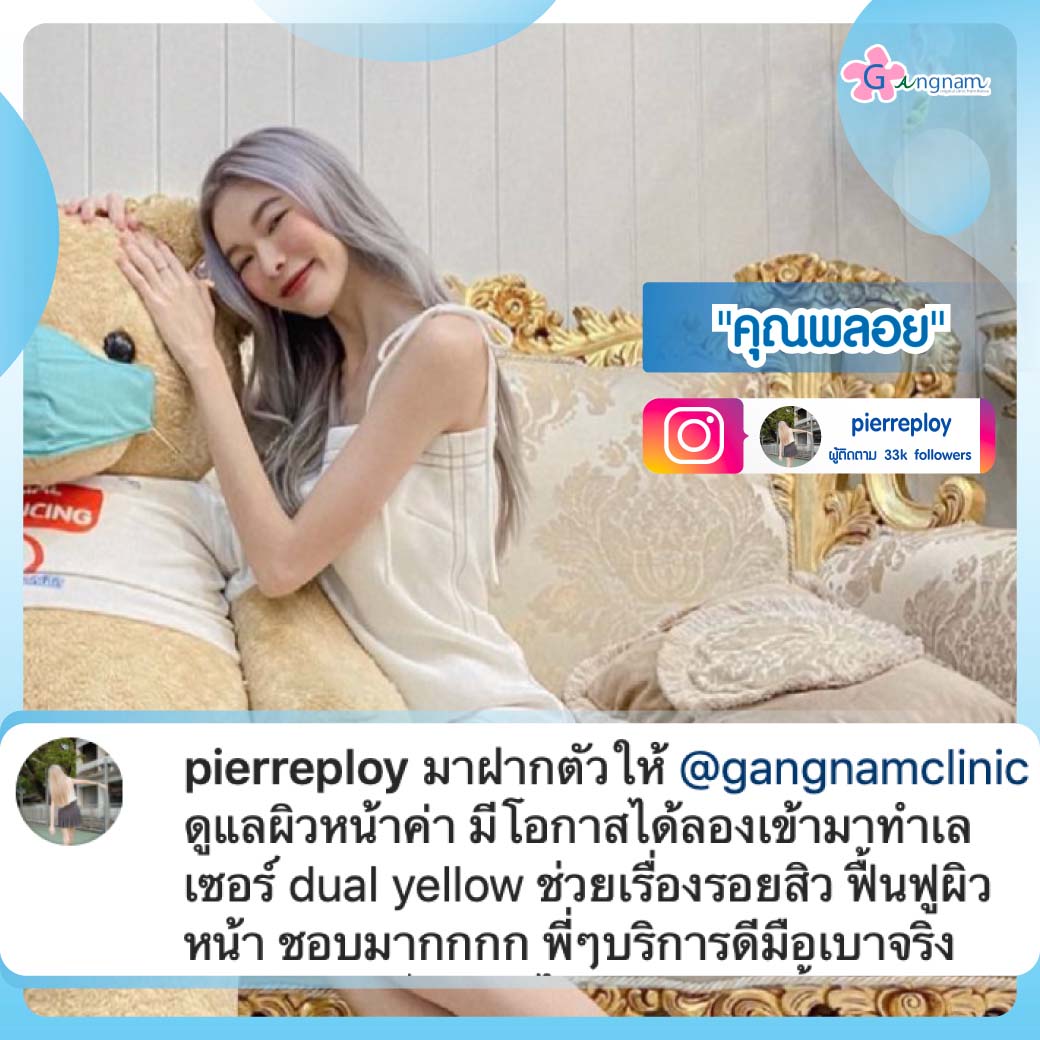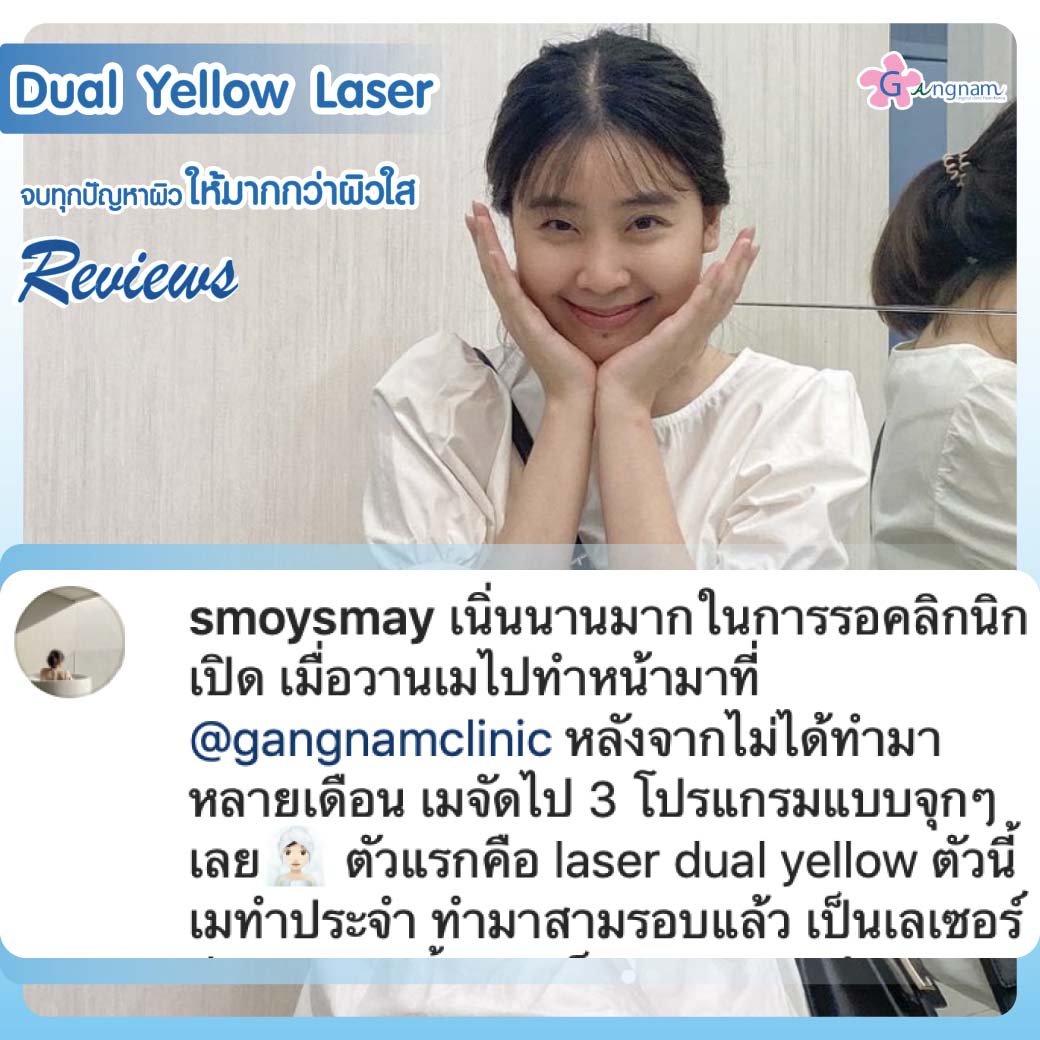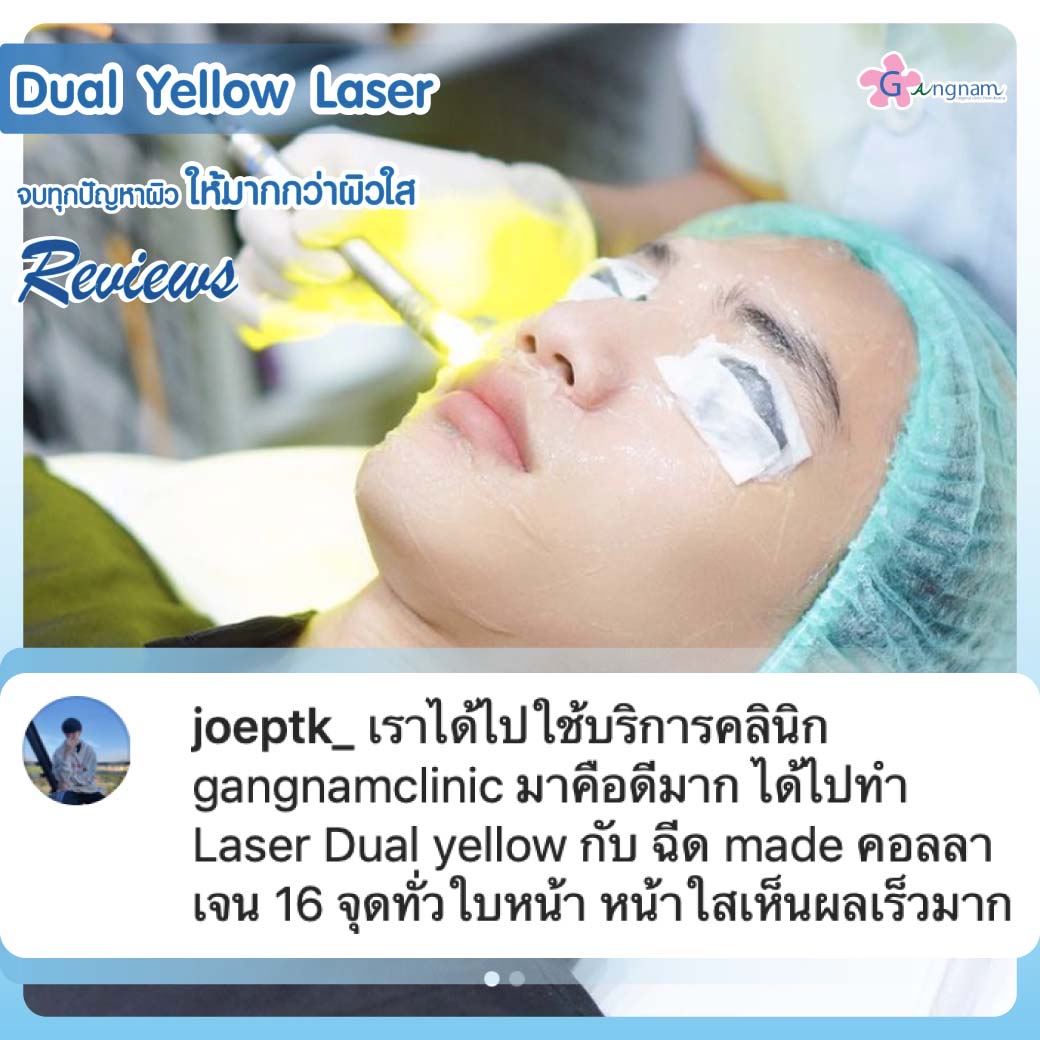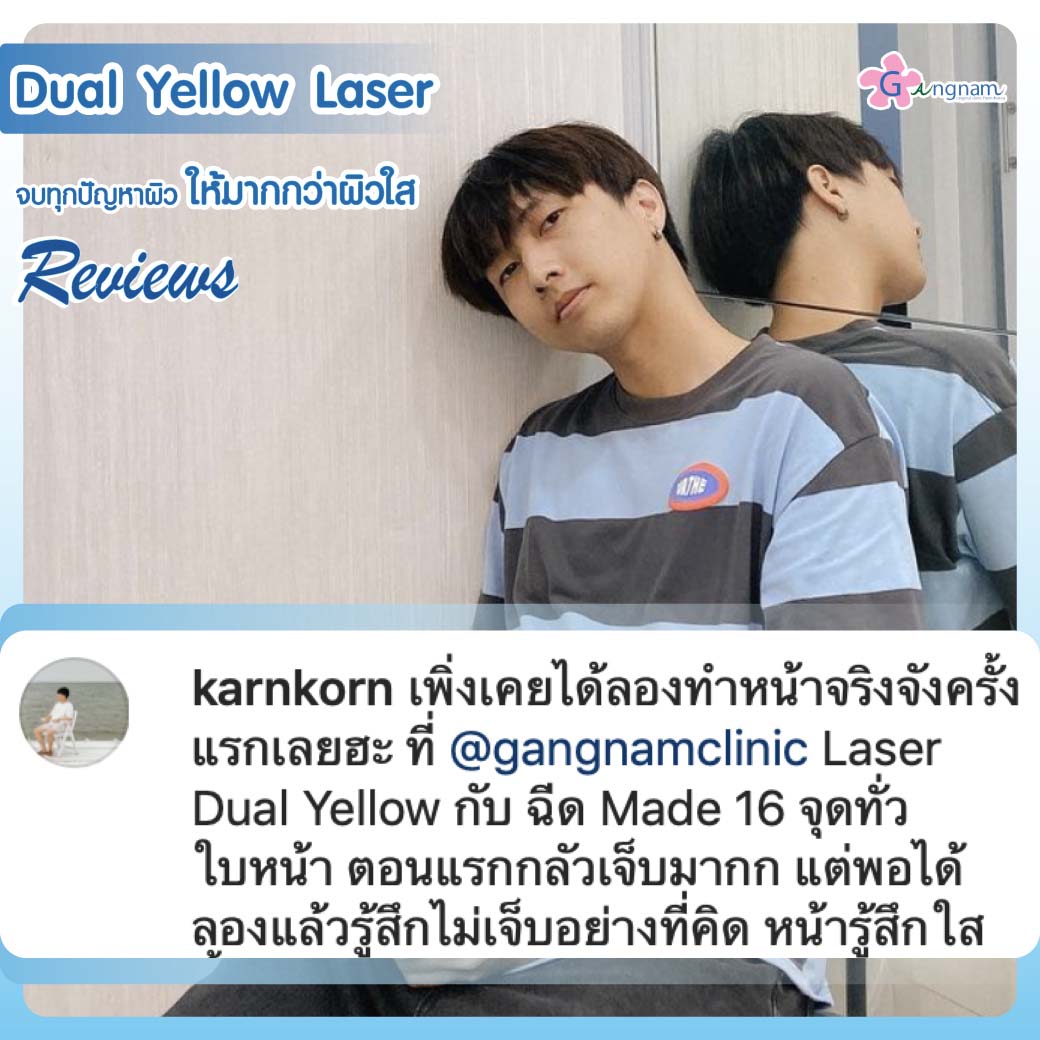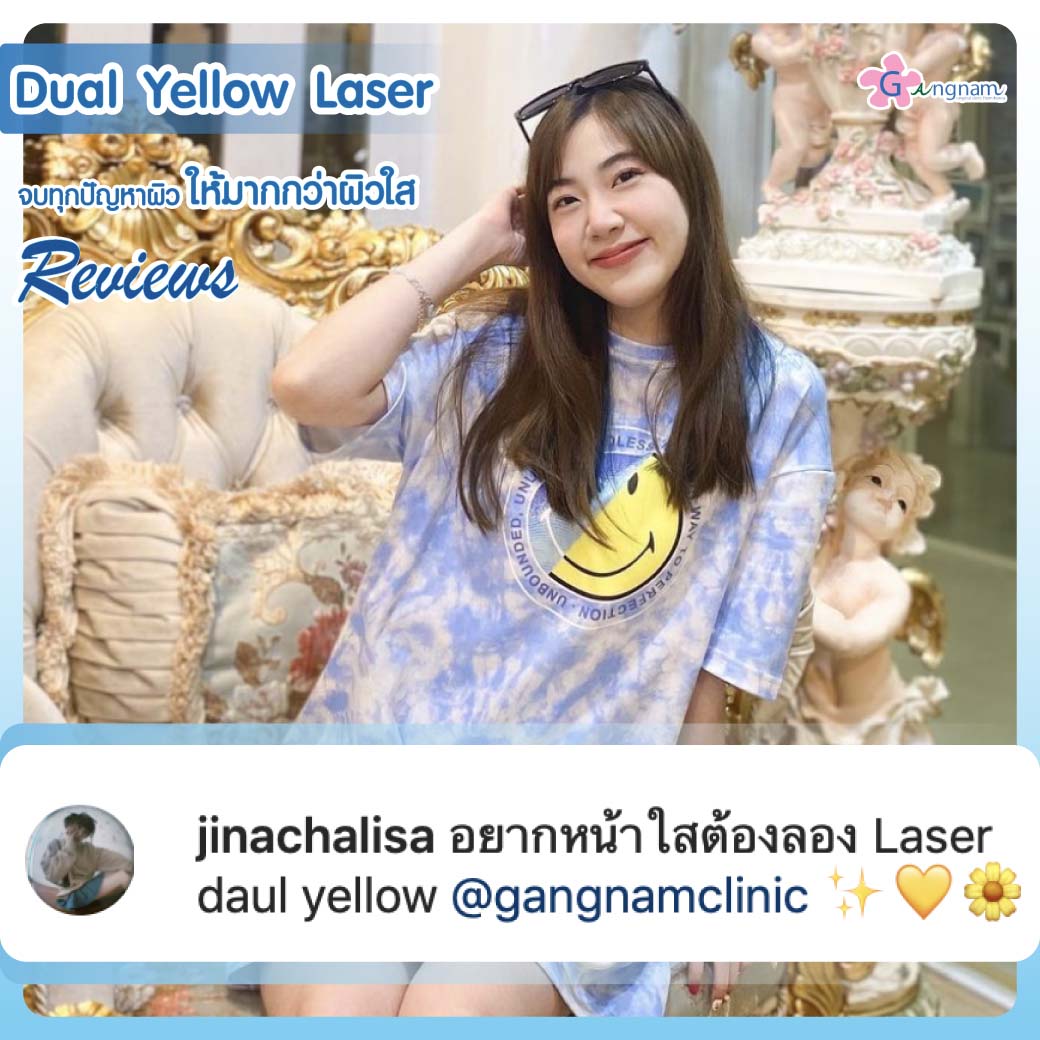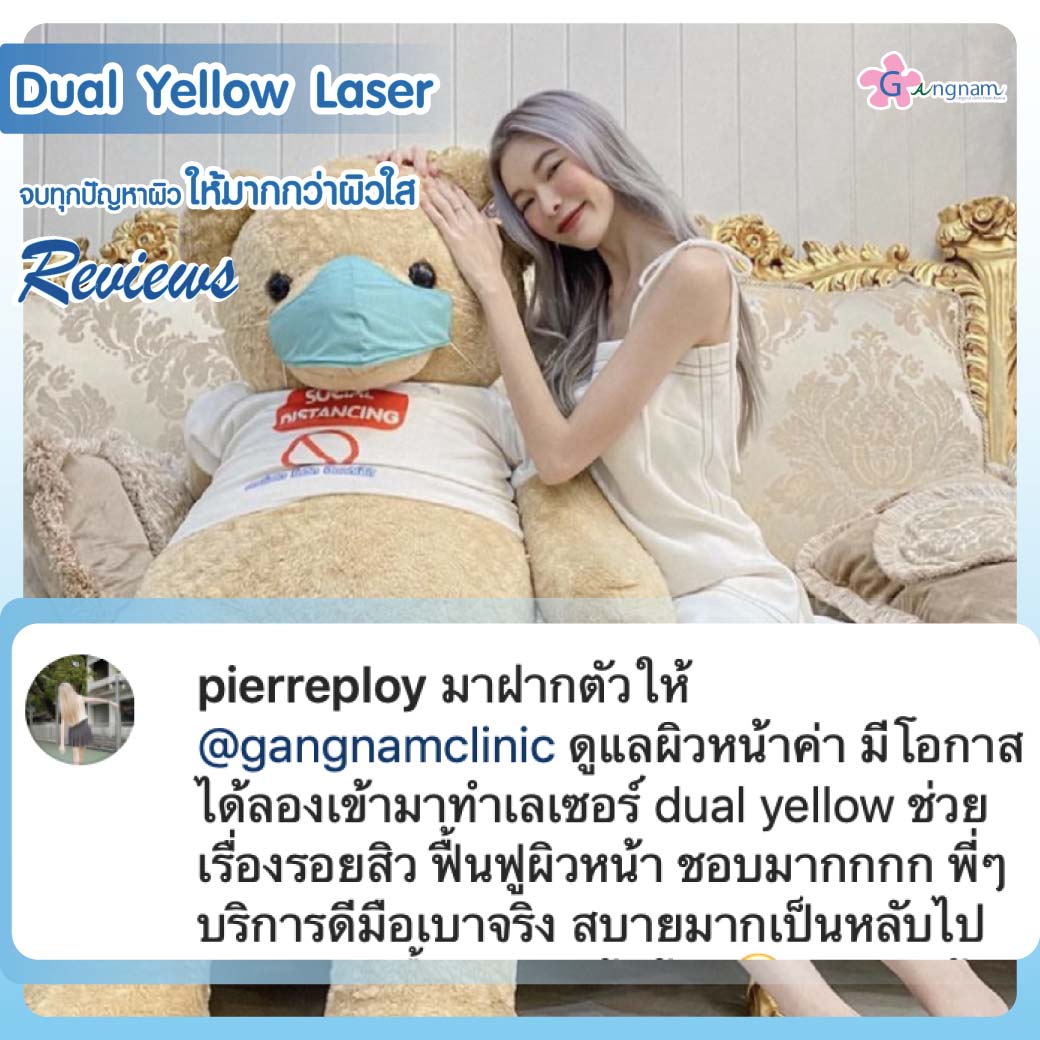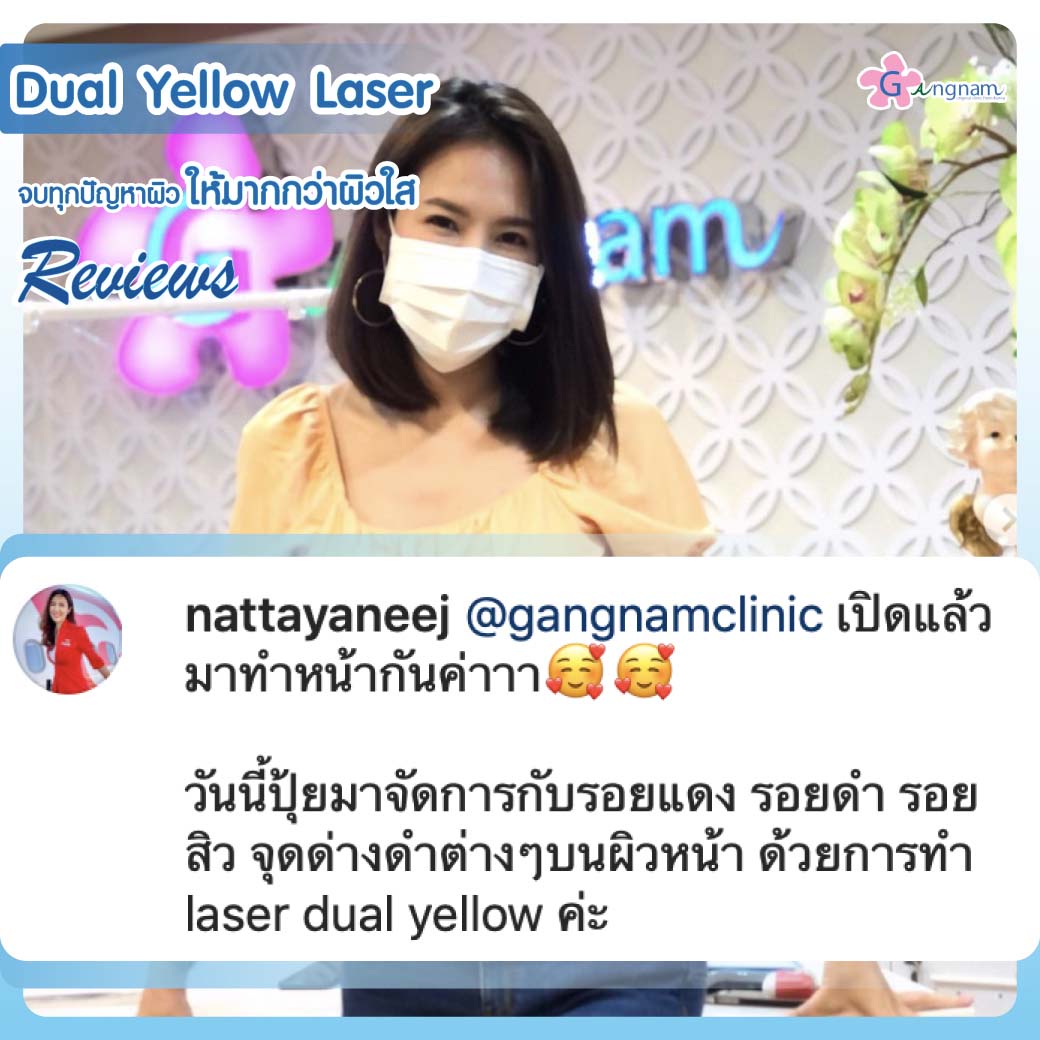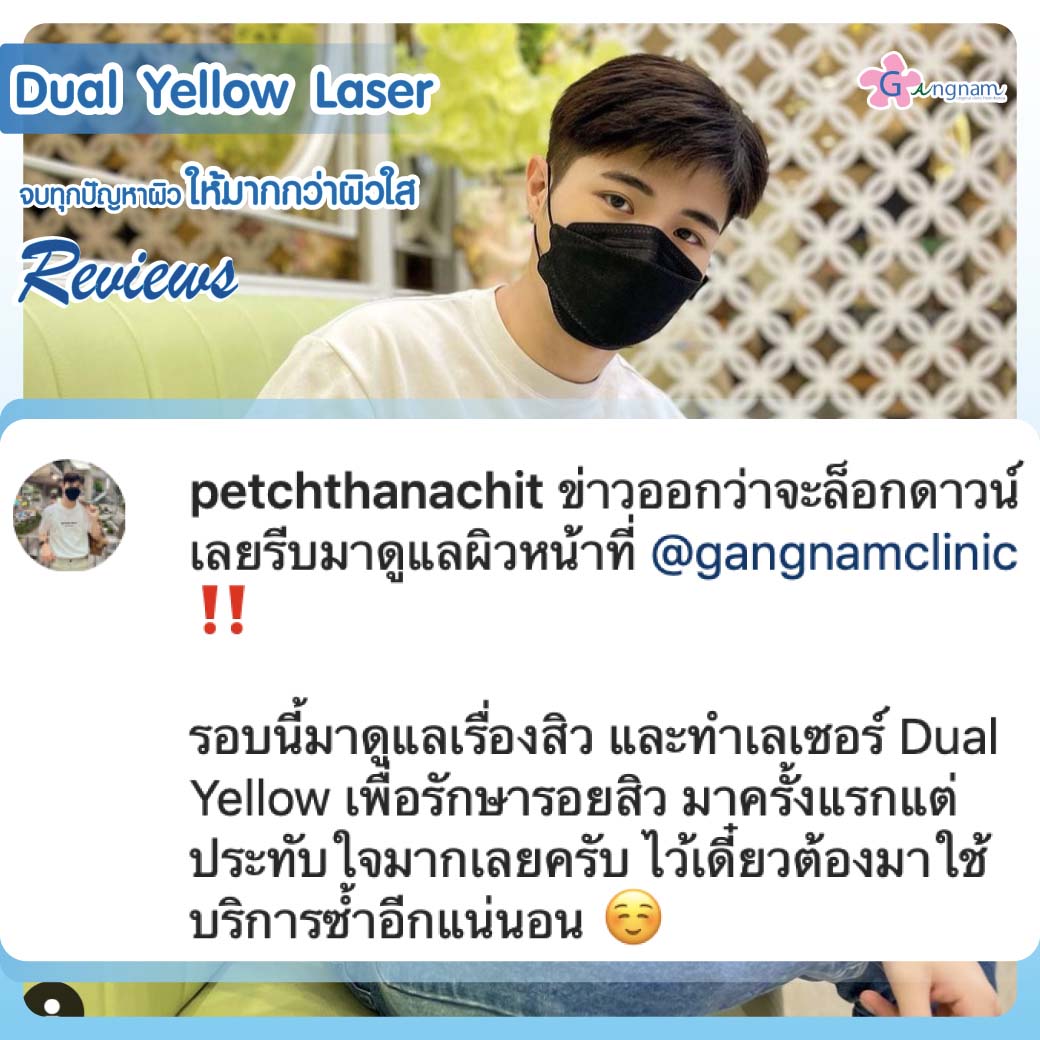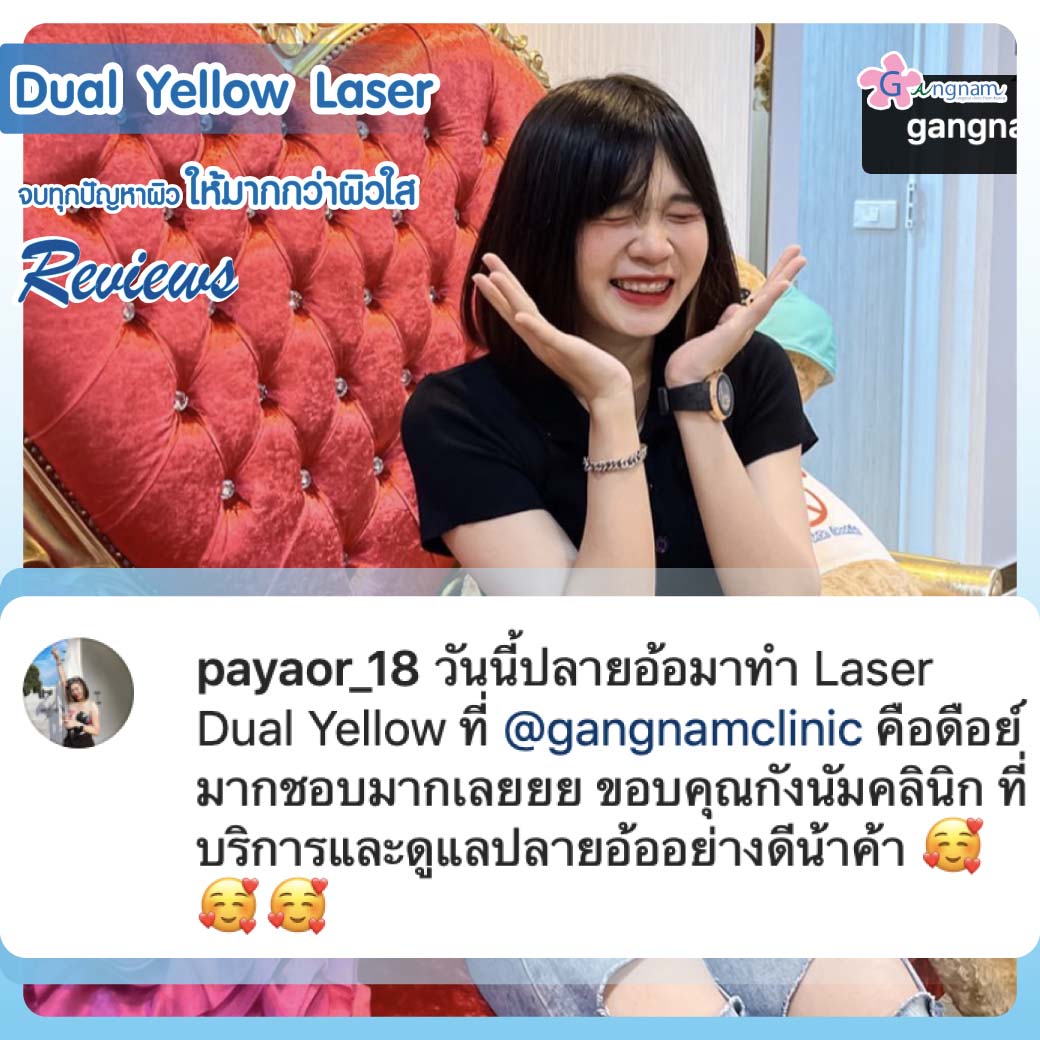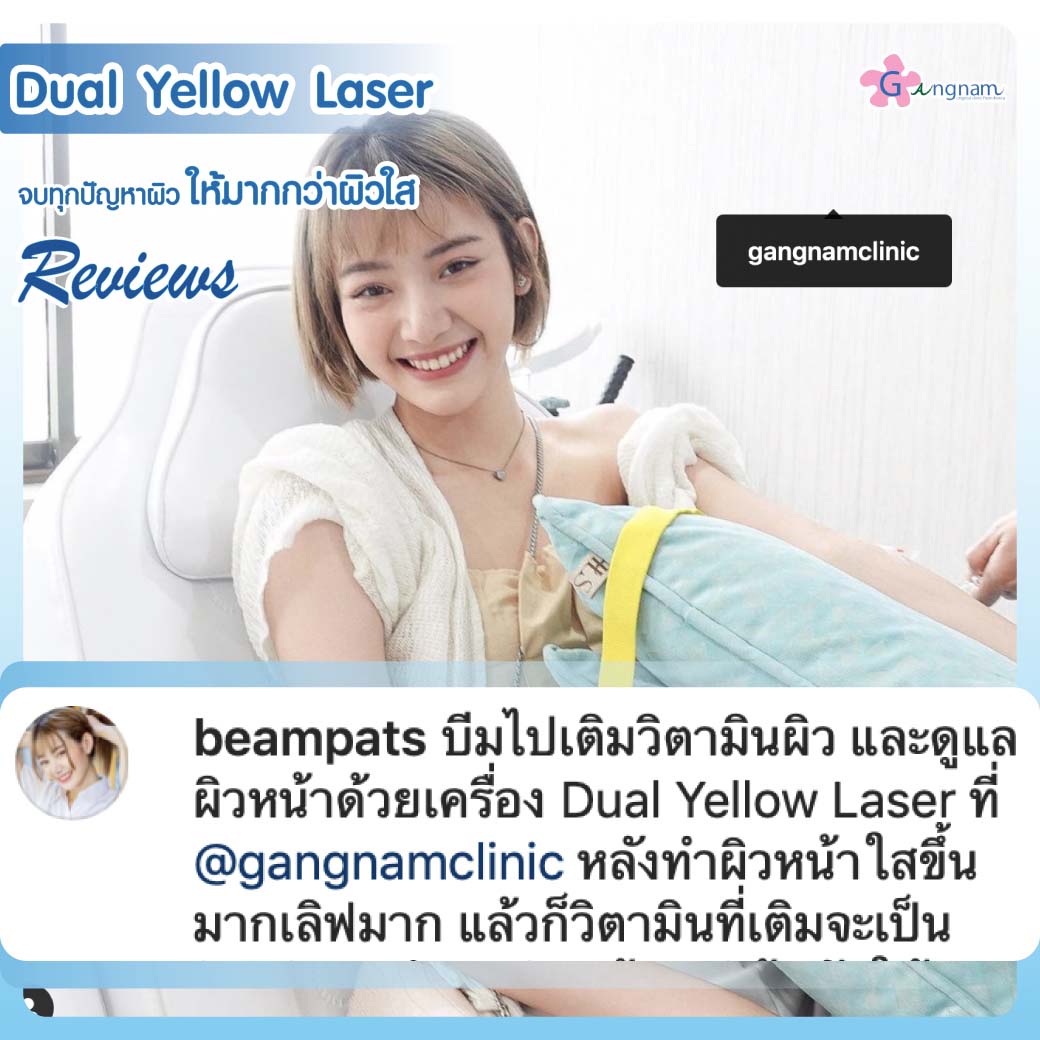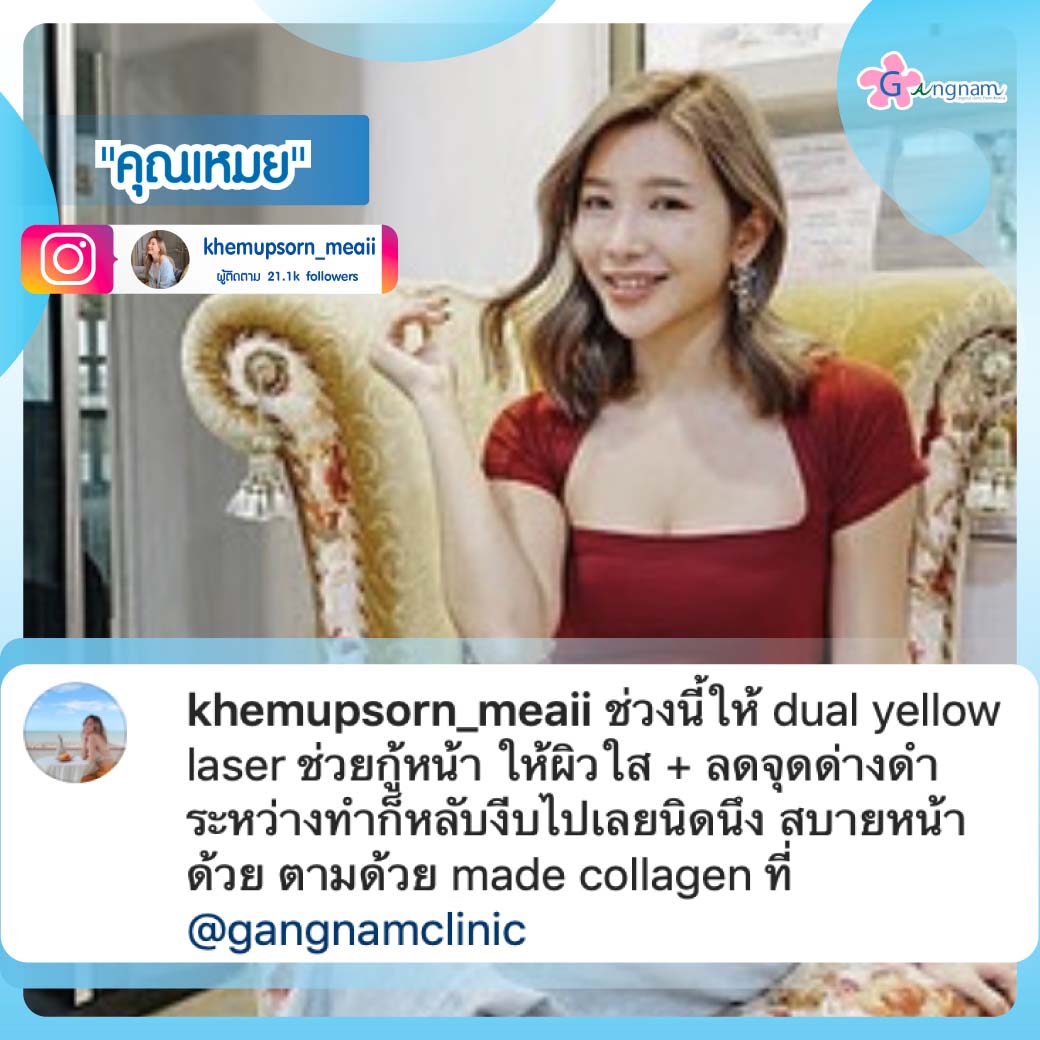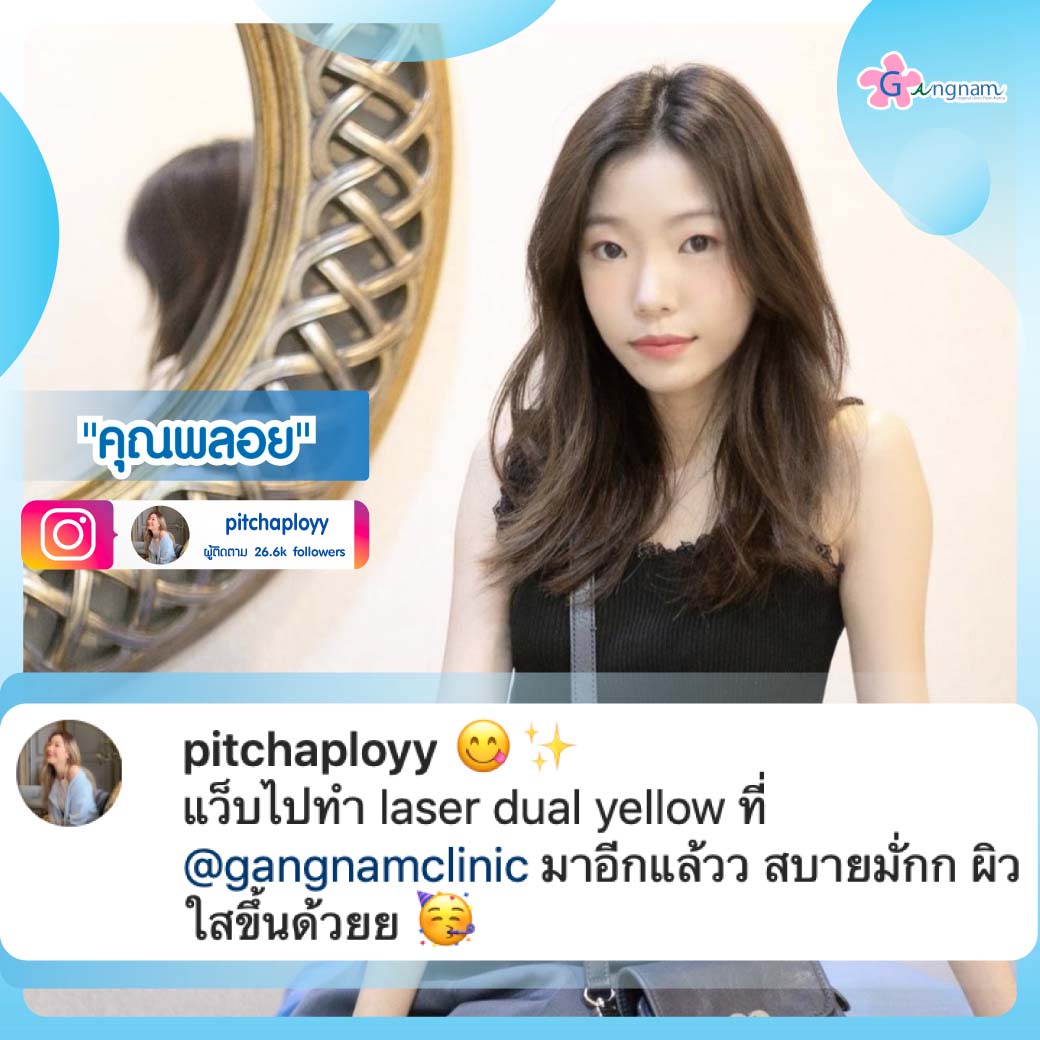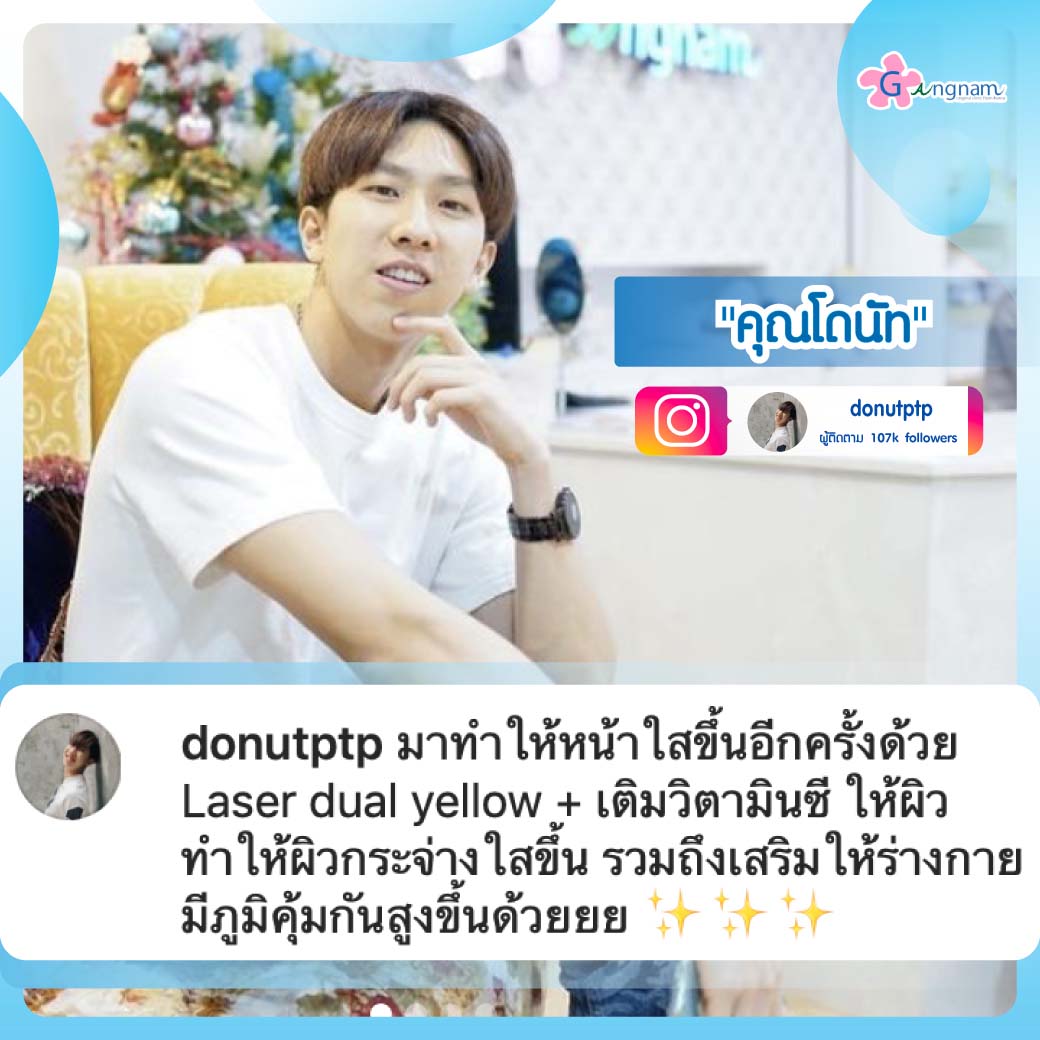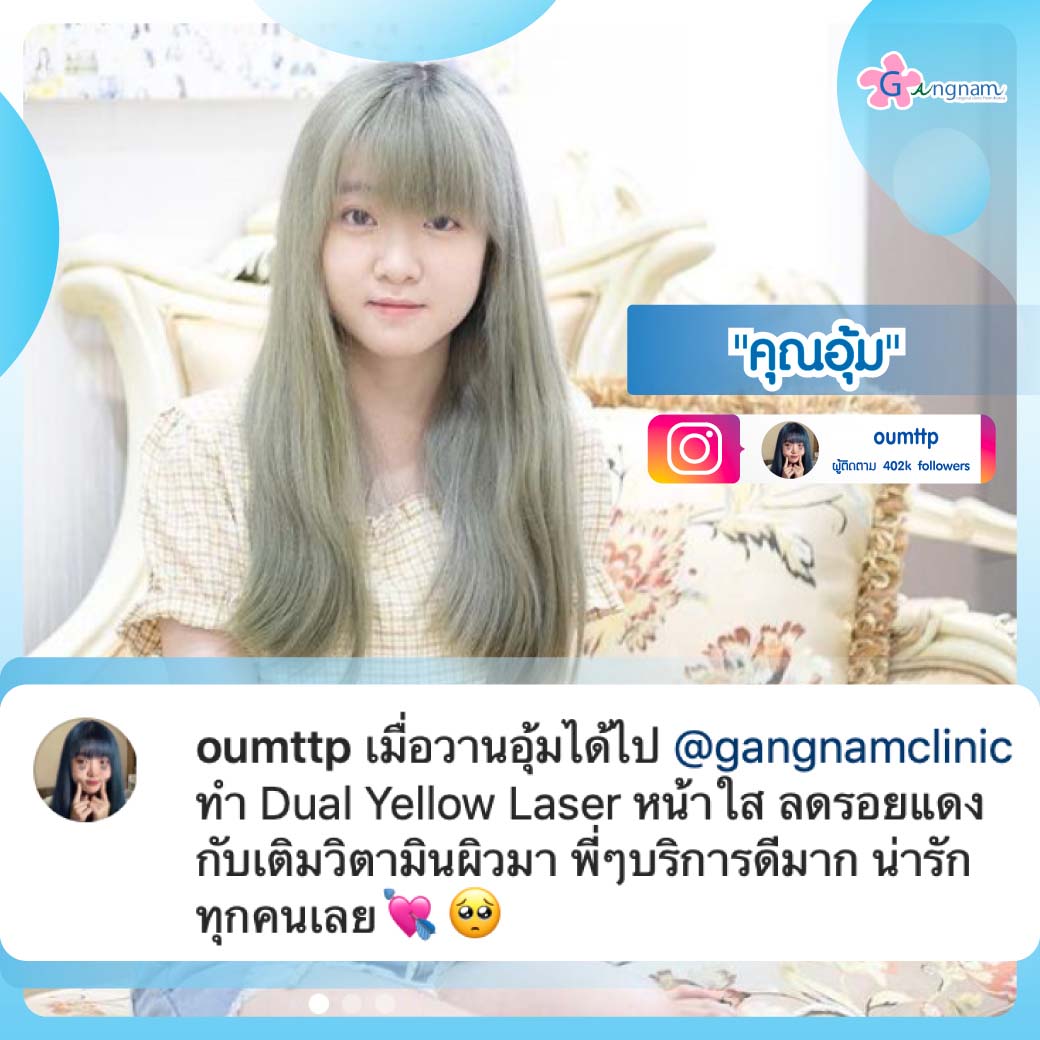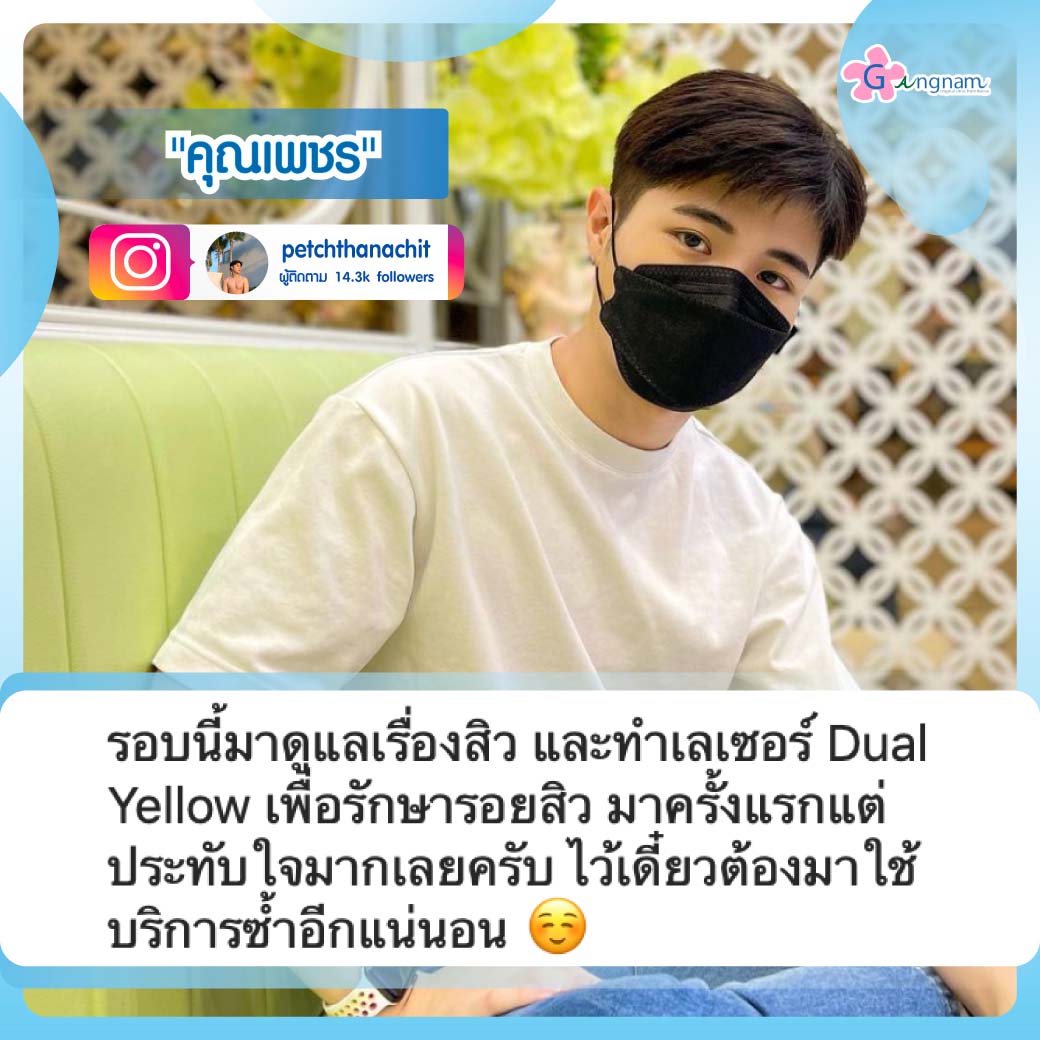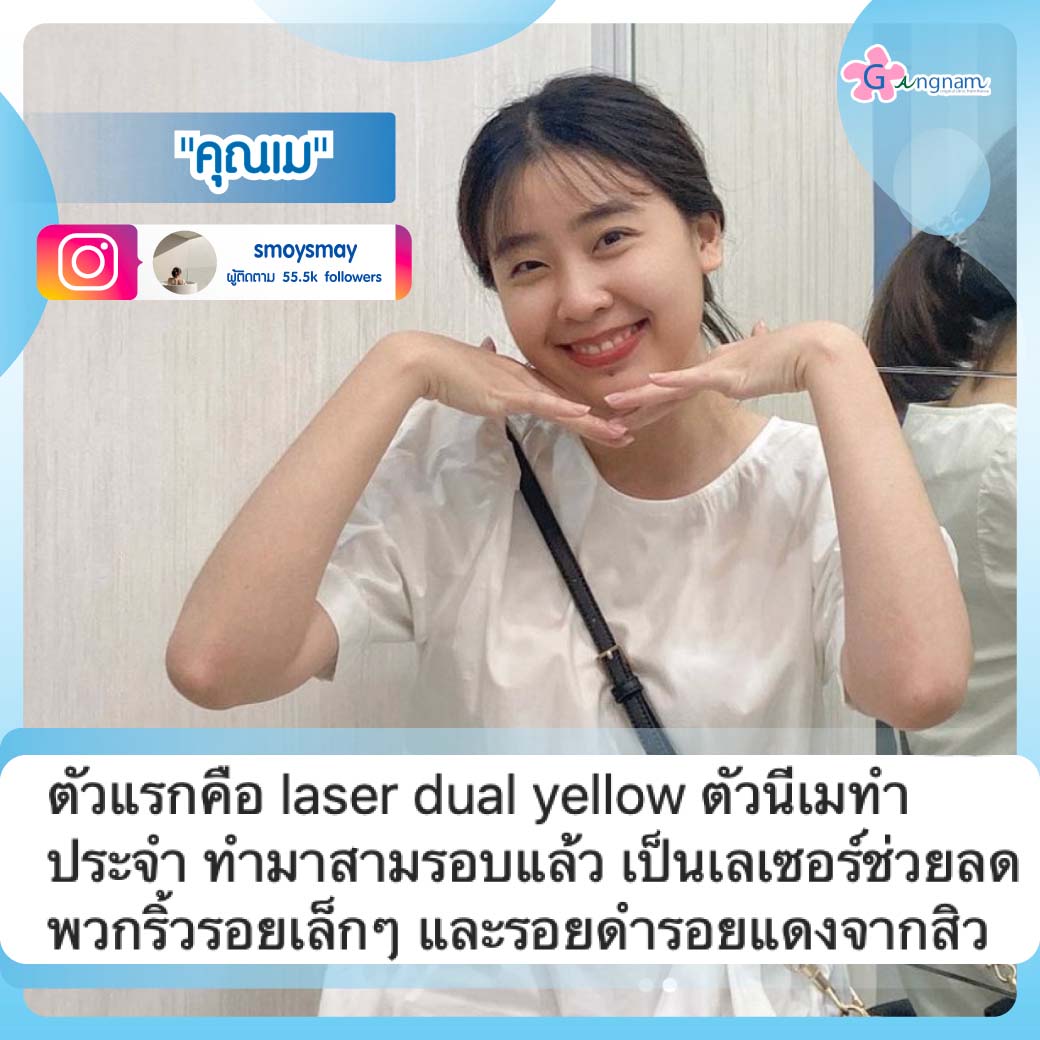 *หมายเหตุ : ผลลัพธ์ขึ้นอยู่กับแต่ละบุคคล